"This post is a culmination of 6 visits to the same site over the past 2.5 months. I have been trying to get to know reed-warblers better and have identified a location where three different migrant species have wintered – the Pallas's Grasshopper-warbler (Locustella certhiola), Black-browed Reed-warbler (Acrocephalus bistrigiceps) (above, below) and the Oriental Reed-warbler (Acrocephalus orientalis).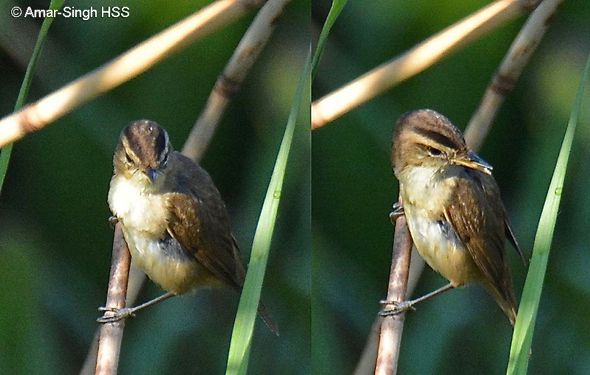 "The location is a vast one with many, large ex-mining pools and must house many such warblers. But in a smaller section, about a quarter of a football field, these three have co-existed although they have taken different parts of the habitat. As we are aware they are hard to observe and extremely shy.
"The Black-browed Reed Warbler is the easiest of the three to watch as it occupies the Water Hyacinth (Eichhornia crassipes) that covers a pond. It will appear briefly, then disappear into the Water Hyacinth growth, and reappear some distance away as if by magic. It has the ability to move below the surface of the growth with hardly any surface vegetation movement.
"After my fifth visit I recognised that there were two of them and on the 6th visit saw some conflict behaviour when one got close to the other. I heard calls intermittently (in local literature, Wells 2007, calls have not been described in the region) and have recorded them previously. A run of chittering sounds or single 'chits'. I have posted sound records previous and will post a sonogram this time (above). Calls are made when disturbed suddenly or in conflict as shown HERE and HERE
Dato' Dr Amar-Singh HSS
Ipoh, Perak, Malaysia
15th March 2013
Location: Tambun Interior, Perak, Malaysia
Habitat: Fish farming, ex-mining pools, limestone hills nearby