BESG has been in operation for ten years now. We have posted more than 3,200 items on bird behaviour as well as other aspects of nature. Total visitors since the start of the website is fast approaching 5 millions and the site has consistently been one of ten top bird blogs in the world. We list below the important milestones for each of the ten years:
1. 2005
July – The Bird Ecology Study Group's website started posting regular updates on the breeding behaviour of a pair of Zebra Doves (Geopelia striata) that nested in a roadside tree. Starting with an adult flying off with an eggshell that announced the hatching of the first egg LINK, it ended with the fledging of the two chicks 17 installments later LINK. This series captured the imagination of local nature enthusiasts as nature blogging then was new to Singapore.
September – BESG was officially accepted as an activity group of the Nature Society (Singapore) LINK after fighting off opposition from the existing Bird Group LINK.
October – BESG's post on anting was an eye opener to local birdwatchers LINK, as previously, no one could explain a 17 years old observation by Kelvin KP Lim of a myna picking ants and placing them on its plumage. The post led to photographic evidence of the phenomenon LINK, and much later, a video documentation of an account of 'anting' using tree sap LINK.
2. 2006
March – BESG linked up with NaturePixels LINK, a photographic e-forum, and tapped on the excellent photographic images of bird behaviour that members uncovered in Singapore LINK, Malaysia LINK and elsewhere LINK. These postings enriched the quality of our website.
April – BESG posted accounts of pellet casting accompanied by images of actual casting that led others to photograph this phenomenon in many other species LINK 1, LINK 2, as well as a video clip of the phenomenon LINK. Images below show pellet casting by a Common Kingfisher (Alcedo atthis) by Allan Teo LINK.
3. 2007
August – A few contributors came together to publish "Bird Watch: A Field Guide to the Passion for Birdwatching in Southeast Asia" in the regional nature magazine, Asian Geographic LINK.
October – BESG made a public slide presentation "Beyond the Plumage: A look at Bird Behaviour" as part of the National Parks Board's Garden's Talk Series LINK.
4. 2008
March – Through the courtesy of Allan Teo who arranged for 24-hours video monitoring, we were able to observe the nesting of the Malayan Whistling-thrush in Cameron Highlands, Malaysia from our base in Singapore. A series of posts were made, culminating in a paper published in an international scientific magazine, BirdingASIA LINK. Subsequent research in Malaysia revealed that this species was actually Blue Whistling-thrush (Myophonus caeruleus), a species that many had previously misidentified. This however did not make the information any less valuable LINK.
September – As the number of scientific publications originating from postings on our website increased, we set up a site to list them LINK.
5. 2009
September – BESG website received its first millionth visitor LINK and an unsolicited kudos LINK.
6. 2010
October – BESG website moved from Blogspot to WordPress format LINK, leading to the current unique domain name in 2012, all thanks to Jacqueline Lau LINK.
7- 2011
February – We posted the first ever sighting of the Narcissus Flycatcher (Ficedula narcissina) in Singapore by Subaraj Rajathurai HERE.
June – Birdwatchers were encouraged to videograph bird behaviour in the field LINK as video clips can capture more information than photographs LINK.
September – Leaders of the Nature Society's Bird Group played the religion card when a Muslim convert was persuaded to make a police report because the webmaster made reference to the group being once the "top dog" – and this was claimed to have insulted their Muslim members "sensitivities". The police dismissed the complaint as baseless – see HERE.
8. 2012
January – BESG broke away from the Nature Society (Singapore) as a result of conflicting interests and continued antagonism LINK. We then linked up with the Raffles Museum of Biodiversity Research, now the Lee Kong Chian Natural History Museum LINK.
June – BESG assessed the impact our website had on birdwatching in Singapore in a comprehensive report HERE.
September – We compiled more than 200 birdcalls and songs documented by contributors HERE, a result of an earlier appeal to birdwatchers to pay attention to bird vocalisation LINK.
9. 2013
January – We compiled a list of plant-bird relationship that now has over 300 species of plants that birds are dependent on for nectar, fruits, nesting materials, roosting sites, etc., gleaned mostly from observations posted since 2005 LINK.
May – BESG extended its coverage beyond birds LINK. This became necessary when we realised from media reports that leaders of the local birdwatching group's knowledge on the flora and fauna is generally biased, if not totally inaccurate – see HERE and HERE.
November – We posted the first sighting (with photographic evidence) of the Red-footed Booby (Sula sula) in Singapore that was made on 9th February 2011 by photographer Chan Yoke Meng LINK.
10. 2014
March – The phenomenon of rhynchokinensis, where the tip of the upper mandible can be flexed upwards independent of the rest of the bill, was introduced to the regional birding community by Dato' Dr Amar-Singh HSS of Malaysia (below). This is where photography LINK and videography LINK have proved to be useful tools in birdwatching.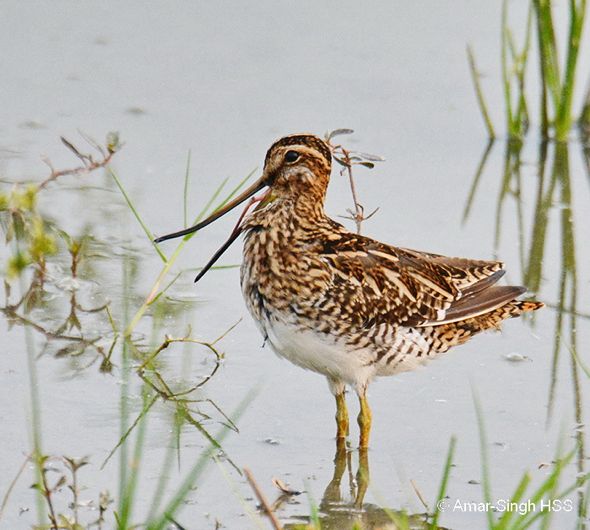 June – We posted the first ever account of cooperative breeding in the world among the Grey-rumped Treeswift (Hemiprocne longipennis) documented by Wong Weng Fai LINK and the first recorded breeding in Singapore of the Green Imperial-pigeon (Ducula aenea), a rare non-breeding visitor (that is, until now) documented by Kwong Wai Chong LINK.
Acknowledgements
We take this occasion to thank visitors to the website; contributors for their interesting accounts, mostly accompanied by images and/or video clips; the early group of Nature Society members for their support and contributions when we were just starting LINK; Andrew Tay for designing the logo; Jacqueline Lau for setting up and hosting the website until it was taken over by the Lee Kong Chian Museum of Natural History, National University of Singapore; and the team at the museum under the leadership of Prof. Peter Ng Kee Lin for its continued support…
YC Wee
Singapore
1st May 2014