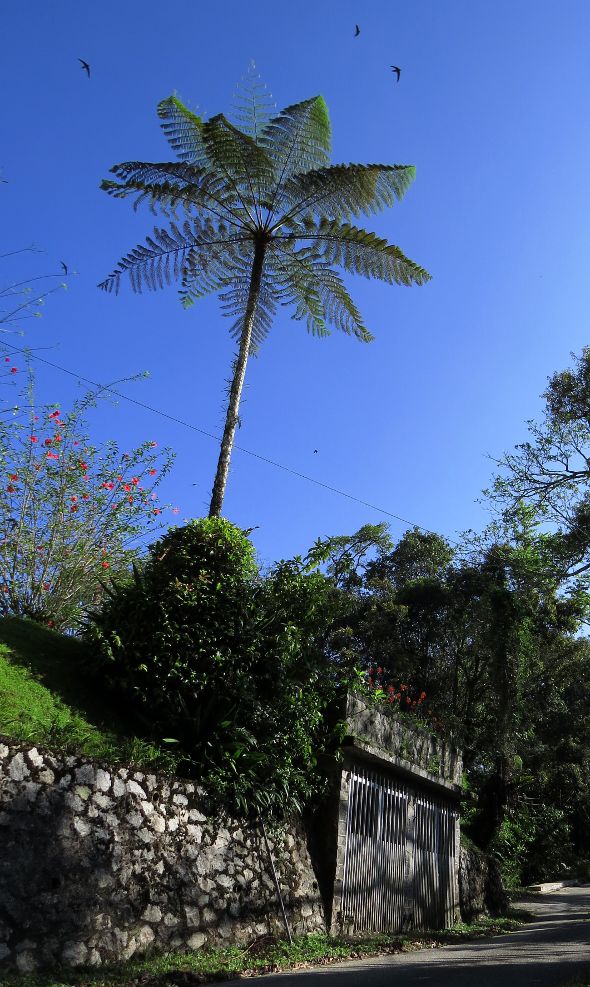 "Many who have been to Fraser's Hill, Peninsular Malaysia for nature appreciation and birdwatching would be familiar with the resident Glossy Swiftlets (Collocalia esculenta), with their healthy roost in a barricaded garage (above). This has been their safe haven for multiple generations and they continue to live and breed here to this day.
"On the evening of 22nd March 2014, an aerial assembly of Glossy Swiftlets caught our attention as they were circling intently around the crown of an emergent tree (top). Then right before our eyes, the swiftlets took turns to bombard a dangling clump of beard-like lichen (Usnea sp.) that was growing from a high branch.
"The following morning (23rd March), we returned to the site and were delighted to witness the same activity with the rising sun. One after the other, the swiftlets were eagerly swooping in and tugging away strands of this lichen with their beaks (images above and below).
"Two video clips of the swiftlets collecting lichen may be previewed below.
"Back at the swiftlet colony, it was clear to see why they were collecting all that lichen with such enthusiasm and urgency (below). We wish them reproductive success in this year's breeding season!"
Dr. Leong Tzi Ming & Dr. Vilma D'Rozario
Singapore
4th April 2014
Footnote: "We understand that the predators of the Glossy Swiftlets in this garage include the Malayan Racer, the Collared Owlet and the Yellow-throated Marten. But to date, we have not been able to get a photo of such predation. Just anecdotes…" – Vilma D'Rozario, 22nd April 2014.