The Kenidai (Bridelia tomentosa) is a smallish tree commonly found in secondary forests (above). It has small, rounded, green fruits that ripen black. These fruits are clustered along the fruiting branch.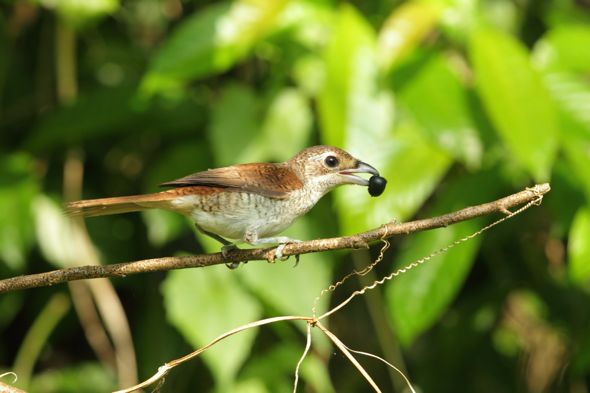 In January 2014 Chan Yoke Meng and Melinda Chan encountered a Tiger Shrike (Lanius tigrinus) picking up a ripened fruit of this plant and flying to a nearby tree where it landed on a broken branch (above).
The shrike moved to the broken tip of the branch and wedged the fruit there (above). In doing so the seed was somewhat dislodged from the fruit.
It then carefully picked up the dislodged seed between its mandibles (above, below) and swallowed it.
The shrike then picked what remains of the fruit and flew off, presumably to eat that also (below).
The diet of the Tiger Shrike is almost exclusively insects (Yosef, 2008) LINK 1, LINK 2 and LINK 3. Wells (2007) reports it taking bees, grasshoppers and a gecko.
According to Yosef (2008), shrikes can resort to frugivory during breeding periods and when there is a food shortage. Thus Southern Grey Shrike was reported taking dates (Phoenix dactylifera); Lesser Grey Shrike, cherries (Prunus) and figs (Ficus); Woodchat Shrike, mulberries (Morus); and Red-backed Shrike, rose hips (Rosa).
But there is no mention of Tiger Shrike taking plant food by either Yosef (2008) or Wells (2007). So this is probably a first record.
Another interesting point is the feeding behaviour of this Tiger Shrike in wedging the fruit onto the broken end of the branch before eating it. This behaviour is reminiscent of shrikes' habit of impaling animal prey onto sharp spines before eating, as seen in these links: LINK 1 and LINK 2.
Chan Yoke Meng & Melinda Chan
Singapore
January 2014
References
1. Yosef, R., 2008. Family Laniidae (Shrikes). In: del Hoyo, J., A. Elliott & D. A. Christie (eds.), Handbook of the birds of the world. Vol. 13. Penduline-tits to Shrikes. Lynx Editions, Barcelona. Pp. 732-796.
2. Wells, D.R., 2007. The birds of the Thai-Malay Peninsular. Vol. II, Passerines. Christopher Helm, London. 800 pp.