The completed research by Prof. Hugh Tan's doctoral student at the Department of Biological Sciences, National University of Singapore, as posted HERE and HERE highlights the different biodiversity seen in managed and spontaneous vegetation.
The study by Dr Chong Kwek Yan showed that the biodiversity in managed vegetation tends to be homogeneous while that in spontaneous vegetation is more diverse – as far as birds and butterflies are concerned.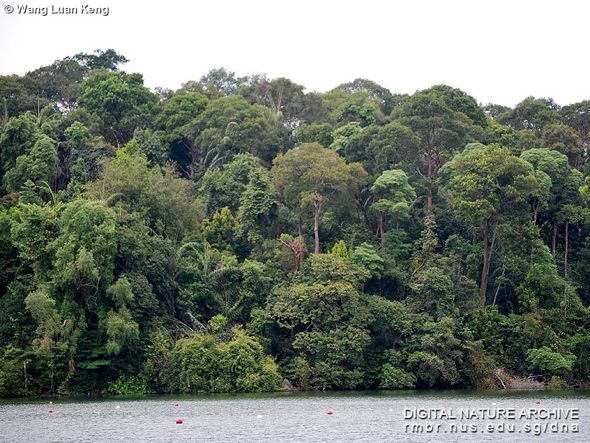 This is understandable. Managed vegetation makes use of a limited number of tree and shrub species. On the other hand, with spontaneous growth like scrubland and young secondary forest, the diversity of plants is very much more. And as the vegetation ages from scrub to forest, the biodiversity improves, reaching the optimum when the secondary forest eventually matures into a primary forest (above: patch of primary forest in the MacRitchie catchment by Wang Luan Keng).
This increasing biodiversity as the vegetation matures is due to the increasing complexities from scrub to secondary then primary forest. And with increasing diversity of plant species, the faunal diversity (especially the invertebrates) increases. This is because each plant species has its own complement of invertebrate fauna, especially insects that feed and breed on it.
And as trees mature, epiphytes and semi-parasites find their way onto their branches that again increase invertebrate diversity. The presence of invertebrates will in turn attract a diversity of vertebrates – higher faunal forms like amphibians, reptiles, birds and small mammals.
The problem of low biodiversity in managed vegetation can easily be rectified by planting more plant species along roadsides (above: roadside trees along Sian Tuan Avenue by YC Wee) and in parks. Introducing food plants of butterflies between roadside trees and in parks will easily increase butterfly diversity. I am sure this is ongoing, undertaken by the National Parks Board. Better still, incorporate wild growth into more parks, an excellent example being the Bukit Batok Nature Park.
A tree like the common mahang (Macaranga bancana) attracts hordes of birds that visit for the nectar and fruits. It is common in our Central Catchment Reserve but local birdwatchers were unaware of it's potential until a birder from Ipoh in Malaysia made a series of postings in this site 1. 2, 3, 4, 5, 6, 7, 8 and 9.
In total, Dato' Dr Amar-Singh HSS documented 23 species of birds attracted to this tree, as listed below:
Brown Barbet; Black-headed, Buff-vented, Cream-vented, Hairy-backed, Red-eyed and Spectacled Bulbuls; Asian Brown, Blue-and-white, Rufous-chested and Yellow-rumped Flycatchers; Blue-crowned Hanging-parrot; Green Iora: Long-tailed Parakeet; Grey-breasted, Little, Spectacled and Yellow-eared Spiderhunters; Plain, Purple-naped, Red-throated and Ruby-cheeked Sunbirds; and Everett's White-eyes.
Yet, when it was suggested that this tree be introduced to our urban environment, local birdwatchers, even seasoned ones, were not supportive – see HERE and HERE.
I wonder why?
YC Wee
Singapore
October 2013