"According to Wikipedia: 'Bauhinia acuminata is a species of flowering shrub native to tropical southeastern Asia. Common names include Dwarf White Bauhinia, White Orchid-tree and Snowy Orchid-tree… It grows two to three meters tall…'
"There is one growing in my condo. Its flowers are fragrant, though I have yet to smell it possibly because of the ever-present strong wind. From my observations the flower only lasts a day. So far, I have witnessed Brown-throated Sunbird (Anthreptes malacensis), Carpenter Bee (Xylocopa confusa), unidentified small honey bees and Lesser Banded Hornet (Vespa affinis) being attracted to the blooms.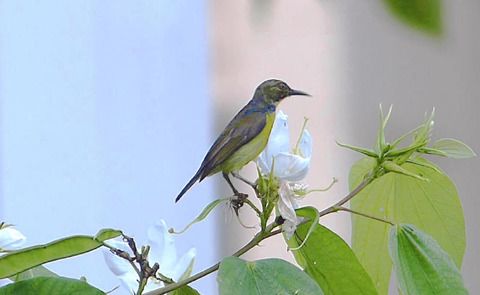 The video below, recorded on 26th May 2013 and played at half speed, shows a sunbird sipping the nectar of the flower. An enhanced screen-capture image reveals that it is a male Brown-throated (above).
Another video (above), played at half speed shows a sunbird taking the nectar of the Gelam flowers (Melaleuca cajuputi). This was recorded on 13th August 2013 at the Bishan Ang Mo Kio Park. The creamy to yellow colour of the flowers looks similar to those of the Lemon Bottle Brush (Callistemon pallidus) (syn. Melaleuca pallida). Both plants are in the Myrtaceae family.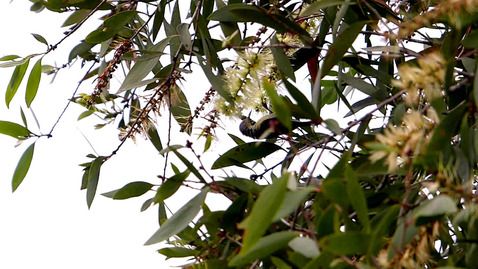 "Screen capture image above shows the bird is probably a female Brown-throated in view of the slight hint of redness in the eye (above)."
Sun Chong Hong
Singapore
23rd August 2013