Introduction
Most Asian hornbills were once thought to be exclusively frugivorous. However, recent observations at nesting sites of certain species have revealed that they take a wide range of foods during their breeding periods (Kemp, 2001). During these periods, and especially after the chicks are hatched, they increase their consumption of animal foods, presumably to meet the calcium requirements of egg production and nestling growth. Outside of the breeding periods they revert to a more frugivorous diet. What this means is that the birds do take animal foods outside their breeding periods but to a lesser extent.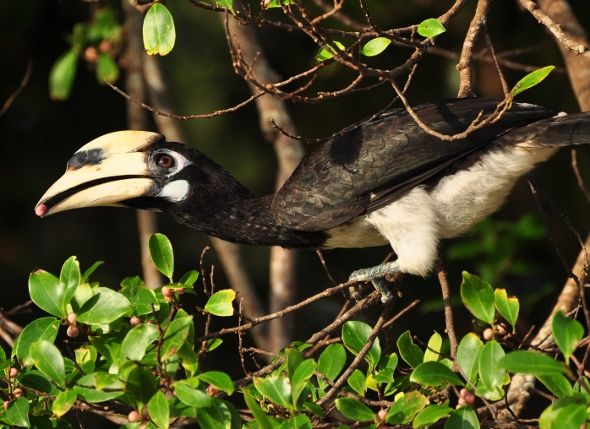 Plant foods
In Singapore and Peninsular Malaysia, we have documented that the Oriental Pied Hornbills (Anthracoceros albirostris) take fruits from 15 families and 23 species of plants, as shown below, But this does not mean that they do not take other species as well. It is just that we have yet to document them.
Annonaceae: Annona muricata LINK.
Cleastraceae: Bhesa robusta.
Caricaceae: Carica papay LINK.
Gramineae: Oryza sativa (discarded rice) LINK.
Leguminosae: Leucaena leucocephala LINK.
Moringaceae: Moringa oleifera LINK.
Palmae: Carpentaria acuminata, Caryota mitis, Elaeis guineensis LINK, Oncosperma sp., Ptycospermun macarthuri LINK.
Moraceae: Ficus benjamina, Ficus kerkhovenii, Ficus microcarpa LINK, Morus alba.
Moringaceae: Moringa pterygosperma LINK.
Musaceae: Musa cultivar.
Myrtaceae: Psidium guajava LINK and Syzygium malaccense.
Polygonaceae: Coccoloba uvifera LINK.
Rubiaceae: Morinda citrifolia.
Sapindaceae: Nephelium lappaceum LINK.
Sterculiaceae: Sterculia parviflora or macrophyllia LINK.
Nearly all the above species are found in the urban environment – in parks and public as well as private gardens. Lack of forest species in the above list is due to absence of observations. These would include members of the above families as well as families like Anacardiaceae, Burseraceae, Flacourtiaceae, Lauraceae, Meliaceae, Myristicaceae and Theaceae.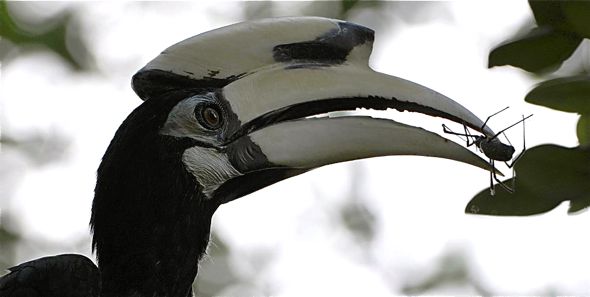 Animal Foods
As for animal foods, Oriental Pied Hornbills have been observed taking insects LINK 1, LINK 2, LINK 3 and their caterpillars LINK; spiders LINK; crabs LINK 1 and LINK 2; and Little Heron's eggs LINK.
Controlled Observations using Nesting Box
Cremades & Ng (2012) reported that the male Oriental Pied Hornbill, during a breeding period of 85 days, brought a total of 42.64 kg (87.6%) of plant foods and 6.02 kg (12.4%) of animal foods to feed the female and four chicks (the fourth chick was subsequently cannabilised). Details of plant and animal foods are given below:
Plant foods consist of palm fruits/figs 19.29 kg (45.2%), papaya 17.67kg (41.5%), jambu 2kg (4.7%), others 3.68kg (8.6%). Animal foods are made up of insects 3.75kg (62.3), snails/worms 0.77kg (12.8%), lizards/birds/mammals 1.25kg (20.8%), and unknown 0.25kg (4.2).
The above does not take into account how much the male consumes during this period. It is significant that figs and papaya make up the bulk of the hornbills' diet during the breeding period.
Conclusion
As expected, plants provide the main source of food for the Oriental Pied Hornbills. Figs, palm fruits and papaya make up the main food source. All these can be sourced from the urban landscape except that figs can also be found on a large scale in forests and wasteland. Unless we have a broad base of food plants available in the nature reserves (in addition to figs), the hornbills will look for their food source from parks, public gardens as well as backyard gardens (for fruits like papaya, guava, rambutan, etc.).
With increasing number of hornbills, a time will come when these birds will be raiding parks and gardens. And once the number of hornbills increases beyond the holding capacity and when novelty wears off, there will bound to be complaints about this "pest" bird.
Another point to be noted is that the Oriental Pied Hornbill has the capacity to develop into a scavenger bird, if given the chance LINK 1 and LINK 2.
In view of the above, a study needs to be initiated to look into the optimum number of Oriental Pied Hornbills that Singapore can sustain LINK.
Credit: YC Wee (text), Dr Leong Tzi Ming (hornbill eating fig) & Dr Tan Heok Hui (eating spider).
References:
1. Cremades, M. & S. C. Lim, 2012. Hornbills in the city: A conservation approach to hornbill study in Singapore. National Parks Board, Singapore. 222 pp.
2. Kemp, A. C. (2001). Family Bucerotidae (Hornbills). In: del Hoyo, J., A. Elliott & J. Sargatal (eds.). Handbook of the birds of the world. Vol. 6. Mousebirds to Hornbills. Lynx Editions, Barcelona. Pp. 436-523.
3. Ouithavon, K., P. Poonswad, N. Bhumbhakpan, & V. Laohajinda, 2005. A comparative study of the feeding ecology of two sympatric hornbill species (Aves: Bucerotidae) during their breeding season in Huai Kha Khaeng Wildlife Sanctuary, Thailand. In: Lum, S. & P. Poonswad (eds.), The ecology of hornbills: reproduction and populations. Pimdee Karnpin Co. Ltd, Bangkok. Pp. 59-73.
4. Poosnwad, P., A. Kemp & M. Strange, 2013. Hornbills of the World: A Photographic Guide. Draco Publishing and Distribution Pte. Ltd., Singapore and Hornbill Research Foundation, Bangkok. 212 pp.