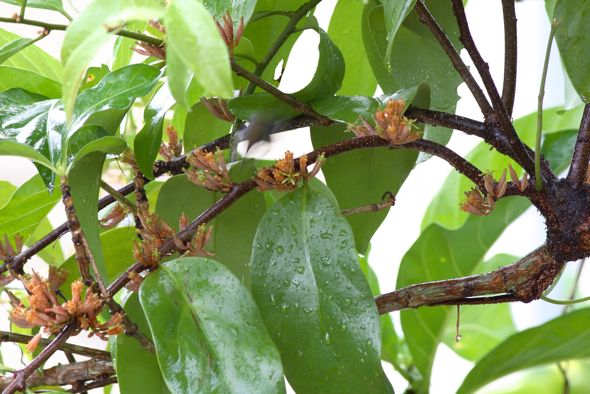 Tropical mistletoes are semi-parasitic green plants that grow on the branches of trees (above) LINK. Brought in by birds that deposit the sticky seeds on the branch LINK, these seeds germinate and send out a specialised organ, the haustorium, into the host's tissues (below). The haustorium taps the host's supply of water and nutrients but the green leaves of the mistletoe manufacture its own food. These plants are thus termed semi-parasites.
Birds love the fruits of these mistletoes as well as the nectar that the flowers provide (below). In taking nectar, the birds assist in the pollination of the flowers LINK. Flowerpeckers LINK, sunbirds LINK, parakeets LINK, hanging-parrots LINK and even bulbuls are attracted to these plants.
The fruits are regularly fed to developing chicks LINK and LINK.
Unfortunately, maintenance crews tend to remove mistletoes growing on the branches of trees by the roadside as well as in gardens. Yes, mistletoes can be destructive to the host trees but there is no need to remove all of them from a tree. Remove them when their growth is excessive but leave some to regenerate back. In this way biodiversity of urban areas can be maintained.
The Malayan mistletoe (Dendrophthoe pentandra) is the food plant of the Painted Jezebel (Delias hyparete metarete), an attractive common garden butterfly (below left: butterfly emerging from pupa), The caterpillars of this butterfly can completely defoliate the mistletoe plant such that the plant can never recover LINK. But this happens only when the mistletoe is not prolific and the caterpillars are plentiful. As such, the Painted Jezebel can be exploited as a natural control of this semi-parasite.
The caterpillars (above right) are attacked by certain wasp species but I have yet to be aware of any documentation of birds taking the caterpillars or the butterflies. Can it be that the colourful caterpillars and butterflies are poisonous to birds?
Allowing mistletoes to proliferate among our roadside trees help increase the biodiversity of our urban areas. These semi-parasitic plants attract birds that take nectar from the flowers and eat the fruits. The plants attract butterflies, whose caterpillars can, to a certain extent, control the former's excessive growth. The caterpillars as well as the butterflies are food for certain animals but whether birds benefit from them has yet to be demonstrated.
YC Wee
Singapore
July 2013
References:
1. Lim, F. L. K., 2011. The Singapore mistletoe story: An expose of a botanical marvel. Singapore, Carnegale Press. 116pp.
2. Wee, Y. C. & A. Ng, 2008. Life history of the painted jezebel, Delias hyparete Linnaeus, 1758 (Order Lepidoptera). Nature in Singapore 1: 103-108.