Appeal to Singapore's Land Transport Authority to re-route the proposed cross-island MRT line away from the MacRitchie forest – sign the petition HERE.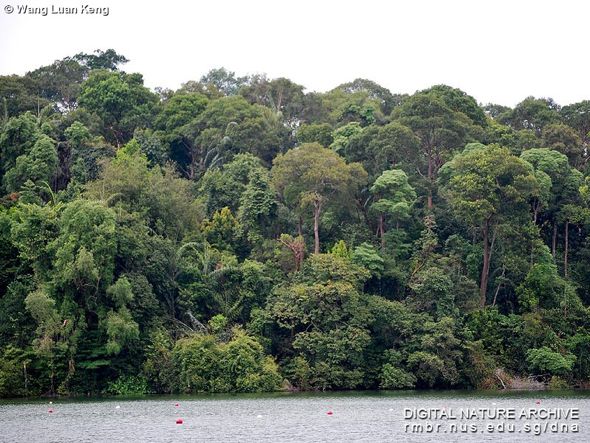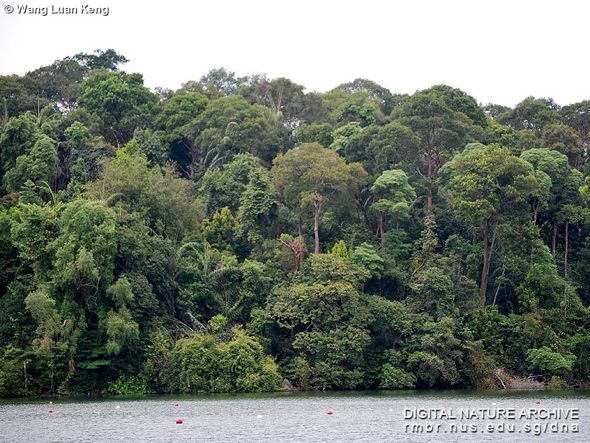 The image above shows the MacRitchie forest in all its glory (image by Wang Luan Keng courtesy of the Raffles Museum of Biodiversity Research's Digital Nature Archive). This is a patch of relic primary forest showing the forest giants that make up the canopy species. Many of these tall trees are from the plant family Dipterocarpaceae, as seen in the image below-left. The tree below-right is a tropical oak tree (Castanopsis schefferiana), belonging to the family Fagaceae.
The giant keruing belimbing (Diptericarpus grandiflous) is shown below-left as a newly germinated seedling. This dipterocarp can grow up to 30m tall, its single, branchless bole, growing straight up to tower over all the other trees. This is an important source of keruing timber. The fruit is one of the largest in the family, with its characteristic pair of wings. These trees flower once every so many years and when they flower, the forest floor is littered with the fallen flowers to be replaced in due course by these winged fruits. The image below-right shows the forest litter made up of the leaves of Dipterocarpus sp.
An interesting under-storey tree is the Scaphium macropodum, known in Malay as kembang samangkok, meaning "fill-a-cup". These fruits are collected to make a local dessert, cheng tng. If you are familiar with the dessert, look out for the brownish jelly-like substance that floats in your bowl of cheng tng. This comes from the ripe seeds of the winged fruit (below left). They are first cut and then soaked overnight in water. A brown mucilage oozes out which is collected (below right) and sweetened to make the dessert. The jelly can be drunk as a febrifuge as well as for coughs, asthma and dysentery – tasting sourish.
The forest shrubs that grow between the trees are many and varied. The Mousedeer Plant (Anisophyllea disticha) (below-left) is easily recognised from its two kinds of leaves arranged in four rows along the twigs and its characteristic bright red fruits. The image below-right shows another forest shrub Purple Thottea (Thottea grandiflora) with its large flowers.
Of all the plants in this forest, Tongkat Ali or Ali's walking stick (Eurycoma longifolia) would be familiar to many. This is because the tap root is the main ingredient of a local aphrodisiac, tongkat ali (below).
It is not possible to encounter all the plants in their flowering and/or fruiting stages when you walk through the MacRitchie forest. This is because each species has its own cycle of flowering and fruiting. You need to visit the forest regularly to encounter these phases of the plants' life cycles.
Credit: Lena Chow (Scaphium macropodum fruit), Wang Luan Keng (MacRitchie forest), YC Wee (all other images).
Earlier Posts:
1. Saving MacRitchie forest: A youngster's view LINK
2: Introduction LINK
3: Flying Lemur LINK
4: Mammals LINK
5. Fragile frogs and tender tadpoles LINK
6. Refuge for reptiles LINK
7. Eco-performance LINK
8. You can't see the wood from the trees LINK
9. Sanctuary for spiders LINK
10. Chained to our roots LINK