Here is a question and answer (Q & A) contribution, focused on the spider fauna in Singapore, with particular attention to the forest-specific species that live in the Central Nature Reserve. To treasure and safeguard our native spiders, we have to be aware of their diversity, distribution, microhabitat preferences, behaviour, and ecology.
Q: What are spiders?
A: Spiders are arachnids with two main body parts – the cephalothorax and abdomen. Sprouting from the cephalothorax are eight legs, which are essential for locomotion, feeding, sensing, as well as web construction. At the end of a spider's abdomen are special silk-producing organs known as spinnerets. At the front of its cephalothorax are eight eyes (four pairs) usually, although some species have six (three pairs) instead.
Q: Where do spiders live in Singapore?
A: At least 400 species of spiders have been recorded for Singapore. They occur in a variety of habitats, from rocky shores, to mangroves, gardens and parks. However, the vast majority of spider diversity may be found in our remnant forest habitats, especially within the Central Nature Reserve. An example of a forest spider you are likely to encounter locally is the Singapore Psechrus, Psechrus singaporensis (below), which was first described as a new species from here in 1894. It usually rests upside-down near the top of its dome-shaped web.
Q: How do spiders find their food?
A: Spiders are predators extraordinaire and employ a multitude of techniques to capture their prey. For 'typical' spiders which spin webs, their food normally finds them instead. After devoting time and resources at web design and construction, they simply sit and wait for careless victims to fly, skip or hop in. Other spiders are more pro-active and prowl around in search of prey. One example is David Bowie's Huntsman Spider, Heteropoda davidbowie (below), an arboreal species named after the pop star.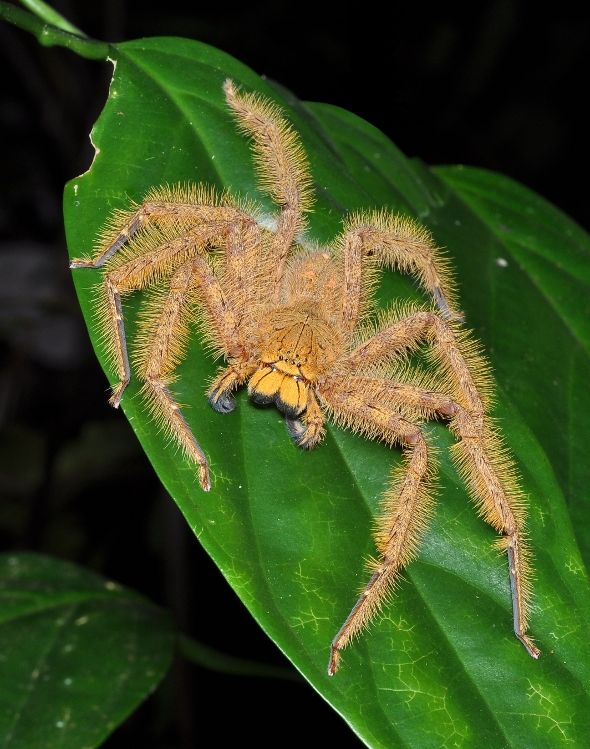 One of the most fascinating hunting methods is demonstrated by the Net-casting Spider, Deinopis sp. (below). A specially woven, highly adhesive 'net' is held in position and always on standby to be cast upon any unsuspecting passerby.
Q: What do spiders feed on?
A: Spiders are like Singaporeans because the topic of food is always on their minds and lips. They can never seem to get enough and revel in variety to tickle their taste buds. For spiders in our forests, the diversity of prey on their menu may include:
• flies (below)
• ants (below)
• bees (below)
• butterflies (below)
• moths (below)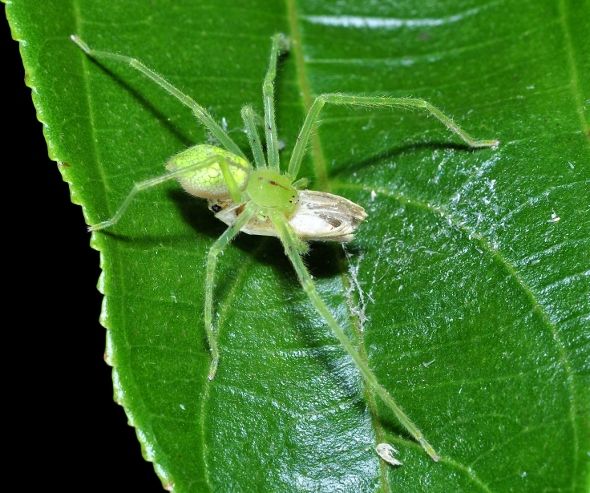 • termites (below)
• cockroaches (below)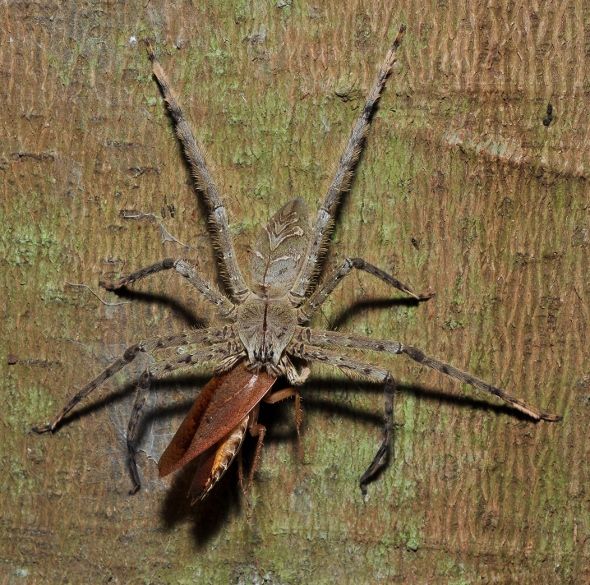 • cicadas (below)
• beetles (below)
• dragonflies (below)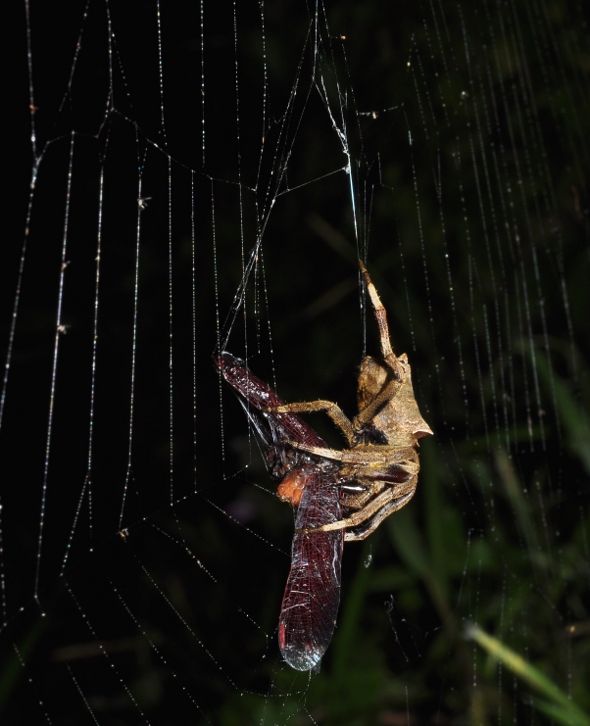 • lacewings (below)
• stick insects (below)
• praying mantids (below)
• freshwater shrimp (below)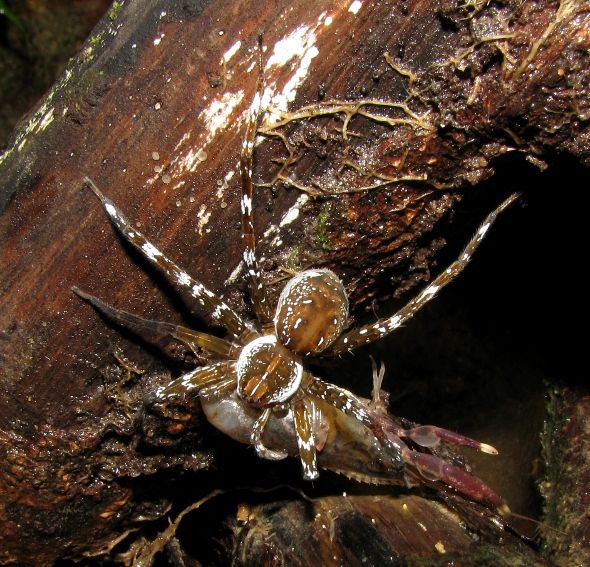 • small frogs (below)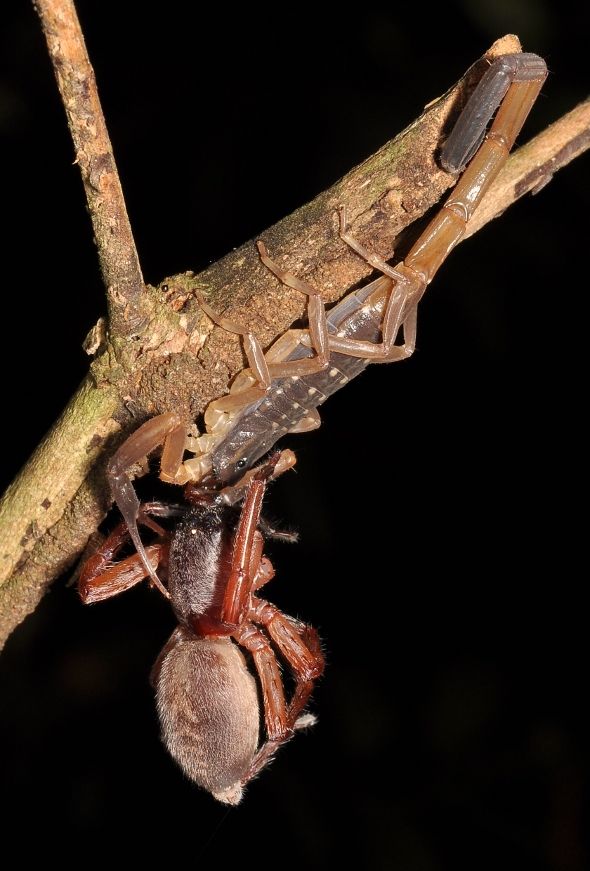 Q: What feeds on spiders?
A: Spiders which are careless or complacent may end up in the jaws of other predators. They can be subdued by skillful scorpions (above) or even other spiders, such as this sneaky White-moustached Portia, Portia labiata (below).
Q: Is there scope for spider research in Singapore?
A: The potential for spider research in Singapore is tremendous, especially for the forest-dwelling species, where diversity is greatest. Many challenges present themselves in the areas of species identification, feeding strategies, breeding behaviour and conservation needs. New species continue to be discovered here. For instance, an unusual termite-eating spider, Janula triangularis (below) was recently described as a new species by arachnologists Hajime Yoshida and Joseph K. H. Koh in 2011.
Q: What can happen to our forest spiders if their habitat is disturbed or demolished?
A: Excessive earthworks and excavation activity could lead to increased siltation in the extensive network of forest streams. These streams are homes to a diversity of Fishing Spiders, family Pisauridae (below). Such spiders are highly dependent on the stream water quality, as they rely on it for their primary food items of fish, tadpoles and shrimp. Unrestrained clearing of vegetation (from low shrubs to large trees) will deprive many spiders of shelter and home.
Q: What is a 'sanctuary'?
A: According to the Merriam-Webster Dictionary, a 'sanctuary' is a place of refuge and protection. As long as we recognise and respect our Central Nature Reserve as a safe haven for wildlife, the native spiders and all its other inhabitants will continue to survive for generations to come.
Dr. Leong Tzi Ming
Singapore
14th June 2013
Earlier Posts:
1. Saving MacRitchie forest: A youngster's view LINK
2: Introduction LINK
3: Flying Lemur LINK
4: Mammals LINK
5. Fragile frogs and tender tadpoles LINK
6. Refuge for reptiles LINK
7. Eco-performance LINK
8. You can't see the wood from the trees LINK.