The MacRitchie forest is under threat with plans to build a Mass Rapid Transit Line through the Central Catchment Nature Reserve (CCNR), in particular the MacRitchie forest LINK. Within a few months time, soil testing will commence, meaning that the forest will be invaded by heavy machinery that in turn will cause damage to the fragile ecosystem. This patch of forest is the oldest within the CCNR, with some areas as old as the primary forest at Bukit Timah. This is Singapore's natural heritage and as such has been legally protected as a nature reserve. Below is an appeal by a 12 years old nature enthusiast, Saker Subaraj (below), who is very concerned of the widespread damage that can come with this move…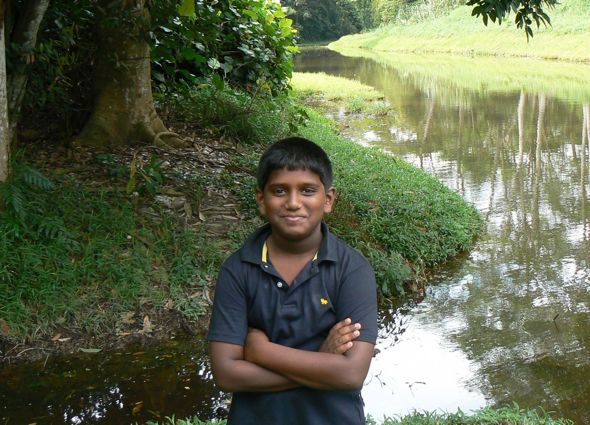 "When I heard that an east-west line was going through the Central Catchment Nature Reserve, I thought it was a joke but soon came to realise that it was turning into reality when I found out that soil investigation was going to be carried out in October this year. This shocked me as I never thought that the government would place an MRT track through this incredible nature reserve. So now I am taking a stand against this action.
"I have had many beautiful experiences in MacRitchie and that will not change. Every New Year, MacRitchie is a hotspot for New Year's Day morning bird-watching where we get a range of different species of animals. We get to see 50 to 70 species of birds, 5 to 8 reptiles, a few mammals and amphibians. These animals are essential for the survival of the MacRitchie forest. If the government continues this process of running an MRT line through this reserve, all these species will decline drastically or go extinct.
"On other occasions such as a big day or surveys of the area, we sit on the Juletong Tower LINK for 6 hours and often find some lifers that I never thought that I would see, like the Lesser (Chloropsis cyanopogon) and Greater Green Leafbirds (Chloropsis sonnerati). When I go on walks with my father, Subaraj Rajathurai, we often see a variety of animals such as the Grey-headed Fish-Eagle (Ichthyophaga ichthyaetus), Changeable Hawk-eagle (Nisaetus linmaeetus), Blue-crowned Hanging Parrot (Loriculus galgulus) (above left), Blue-rumped Parrot (Psittinus cyanurus) and Short-tailed Babbler (Malacocincla malaccensis). Others, like the Common Treeshrew (Tupaia glis), Malayan Colugo (Galeopterus variegatus) (below), Black-bearded Flying Dragon (Draco melanopogon) (above right), Twin-Barred Tree Snake (Chrysopelea pelias) and Oriental Whip Snake (Ahaetulla prasina) are also seen.
"MacRitchie has a diverse variety of animals and to see it being destroyed for the convenience of humans is a real tragedy. Is a few minutes of getting to work faster really more important than the survival of many species of animals?
"There are still animals that I want to see such as the Sunda Pangolin (Manis javanica) and the Lesser Mouse Deer (Tragulus kanchil).
"If this MRT line manages to go through, then the government has only themselves to blame for the destruction, of what must be, the greatest eco-system in Singapore."
Saker Subaraj, 12 years old
Singapore
24th May 2013