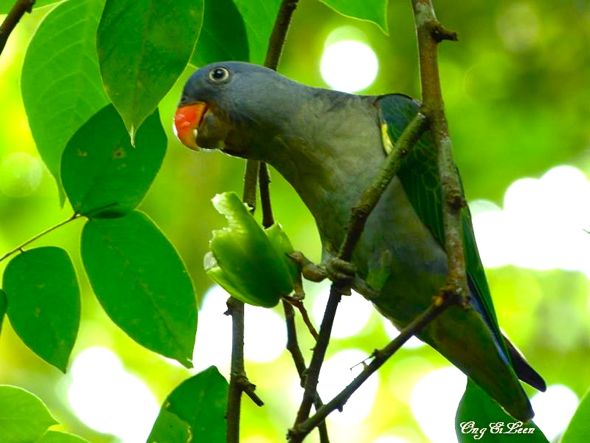 Ong Ei Leen was the first to post the Blue-rumped Parrot (Psittinus cyanurus) eating the starfruit (Averrhoa carambola) at Singapore's Venus Loop by Lower Peirce Reservoir in mid-May 2013. This rare resident is a wasteful eater, scattering bits and pieces of the fruit on the ground below in his effort to get at the seeds. This male's eating behaviour (above) is very much like that of the Tanimbar Corella (Cacatua goffini) LINK. While the Tanimbar Corella removes bits and pieces of the flesh from the fruit ridges to get at the seeds, this male Blue-rumped Parrot tears away the flesh from one end of the fruit. Unfortunately Ei Leen's video cannot be shown here LINK as there are some problems posting Facebook videos on this website.
Jeremiah Loel's video (above) shows the female Blue-rumped Parrot plucking the fruit before attacking it from the end.
Lena Chow's video on the other hand shows the male eating the fruit while still attached to the branch (above). The female on the other hand plucks the fruit before removing chunks of the flesh to get at the seeds (below).
Ong Ei Leen, Jeremiah Loei & Lena Chow
Singapore
May 2013