"It is with great sadess that I write this email.
"Last week, I pointed out two Yellow-vented Bulbul (Pycnonotus goiavier) nests around the condo. The kids were excited and were looking forward to getting a chick to raise again. Our loyal companions, a YVB that I saved from a window strike and another chick both passed away last year from strange circumstances. One started having week legs and started shutting all over himself and finally passed on after a long fight with the illness. I suspect it was due to pollution from the newly completed condo next door. The dust from the polishing was all over the place and could have affected the bird. The second bird passed soon after, probably from the loss of the companion. His illness was short thankfully.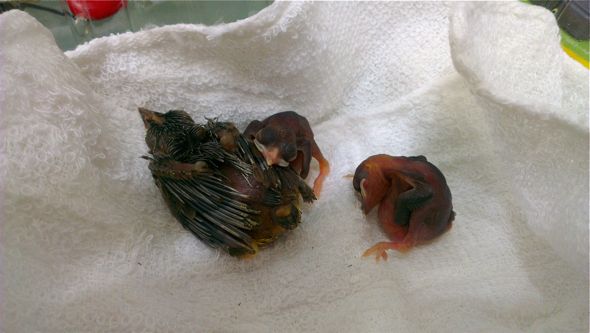 "This year, there were far less bulbuls in the neighbourhood. I think due to the pollution, there is less food and the birds have to spread out. I have not observed any bulbul evening fly-in gatherings for a long time too. Maybe after the breeding season I will check again.
"This morning I set out to retrieve the single chick from this nest. I was shocked to find the palm bushes in the process of being botaked [=clean shaven]. The bush bearing the nest was already thrown in a pile. It took me a while to extricate the chick. If I had been a few hours late, that would have been it.
"This pruning exercise was a knee jerk reaction for the appearance of a small snake in the lift lobby two days ago.
"I asked the workers if the the palms in the next block were destined for the same fate. Confirming the inevitable, I also retrieved the two chicks from that nest. Unfortunately they were very much younger and it will be a challenge to pull them through.
"However if they are not saved, that would be the end for them too.
"It is sad that we don't have space for the YVB who has shared our gardens for decades. Mornings will not be the same without their morning calls, which has also been taken over by foreign talent (the Joel).
"I hope to post a happy follow up in a few weeks time."
Jeremy Lee
Singapore
28th March 2013