The earlier series: 1. Need for a Catalogue LINK; 2. Moraceae LINK; 3. Euphorbiaceae LINK, 4. Poaceae LINK, 5. Fabaceae LINK, 6. Palmae LINK, 7. Loranthaceae LINK, 8. Meliaceae LINK and 9. Myrtaceae LINK.
The plant family Anacardiaceae is made up of trees with a caustic resin that turns black on exposure to the air. Their leaves are alternately arranged, rarely in opposites. Annonaceae comprises of climbers, shrubs and trees with alternate leaves. Members of the Apocynaceae are similarly climbers, shrubs and trees except that their leaves are in opposites of in whorls. The plants oozes a white latex when damaged.
In the following list the different species of birds that visit the plant are listed below each plant species. Details are as follows:
1. Common name of bird.
2. Whether for food, to forage for insects, to roost, to collect nesting material or to nest.
3. Author of the post.
4. Date of posting
5. Habitat if in Singapore (BTNR = Bukit Timah Nature Reserve), otherwise country.
6. Link to the actual post on the website.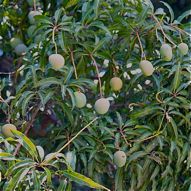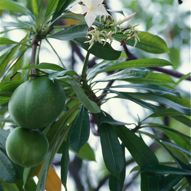 [l-r: Mangifera indica fruits, Annona muricata fruit and Cerbera odollam branch with fruits.]
Anacardiaceae
Gluta malayana> (rengas)
Corellas
Tanimbar Corellas: nesting_AngieNg_260107_Changi – LINK
Hornbills
Oriental Pied Hornbill: nesting_AngieNg_260107_Changi – LINK
Mangifera indica (mango)
Doves
Spotted Dove: nesting_JeremyLee_240208_urban-garden – LINK
Hanging-parrots
Blue-crowned Hanging-parrots: fruit_SandhuChin_160510_urban-garden – LINK
Kites
Black-shouldered Kites: nesting-AmarSingh_250112_Ipoh-Malaysia – LINK
Orioles
Black-naped Oriole: fruit-CheongWenChun_140210_Malaysia – LINK
Black-naped Oriole: fruit_AmarSingh_090811_Ipoh-Malaysia – LINK
Annonaceae
Annona muricata (soursop)
Oriental Pied Hornbills: fruit_TanTeoSeng_110309_Johor-Malaysia – LINK
Polyalthia sp.
Hornbill: fruit_Hornbill-Research-Foundation_Jan-08_Thailand – LINK
Apocynaceae
Allamanda cathartica
Yellow-vented Bulbul: nesting_LenaChow_050808_urban-garden – LINK
Alstonia sp.
Barn Swallow: roost_WuEuHeng-YCWee_Nov.05_roadside – LINK
Cerbera odollam (pong pong)
Corellas
Tanimbar Corella: fruit_JWee-ChanYokeMeng-YCWee_100906_roadside – LINK
Tanimbar Corella: fruit_LimPohBee_141109_roadside – LINK
Tabernaemontana corymbosa (great rosebay)
Yellow-vented Bulbul: fruit_JosephLai_290708_park – LINK
Thevetia neriifolia> (Yellow Oleander)
Cockatoos
Goffins/Tanimbar Cockatoos: fruit_MargieHall_241108_park – LINK
Koels
Asian Koel: fruit_SSreedharan_221011_India – LINK
Wrightia religiosa (wild water plum)
Flowerpeckers
Scarlet-backed Flowerpecker: seed-dispersal_AngieNg_270106_urban-garden – LINK
Green-pigeons
Pink-necked Green Pigeon: nesting_YCWee_061105_urban-garden – LINK
Sunbirds
Sunbird: nectar_RiaTan_140311_urban-garden – LINK
YC Wee
Singapore
October 2012