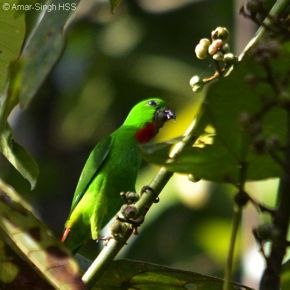 The Blue-crowned Hanging Parrot (Loriculus galgulus) has now been observed taking fruits of Macaranga bancana, not recorded earlier LINK. With this record, the total number of species feeding on the fruits of this plant is now 20 – comprising 1 barbet, 5 bulbuls, 3 flycatchers, 1 hanging-parrot, 1 iora, 4 spiderhunters, 4 sunbirds and 1 white-eye.
Dato' Dr Amar-Singh HSS photographed this parrot at the Kledang-Sayong Forest Reserve in Ipoh, Perak, Malaysia on 1st December 2011. The tree was along a trail through dense primary forest near a rushing stream.
Macaranga bancana is an excellent bird tree LINK that has so far not been appreciated in Singapore. One reason is that local birdwatchers have not been keeping watch on this tree as they are found growing in disturbed forests.