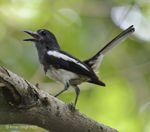 "We love watching birds in the garden as we get extended contact with the same bird and get to know them individually. Each bird of the same species has subtle, and occasionally overt, personality traits that enable us to differentiate them. We have many adult Oriental Magpie Robins (Copsychus saularis musicus) that visit our garden.
"This particular female has made her presence felt these past 4-5 weeks. As long as I do not have my VTO (very threatening object a.k.a. the camera and long lens) present she will come to within 2-3 meters of us and give us a 'screech'; often a few times. We believe she thinks the garden is hers and we are the interlopes. She will also flash her tail at me many times; one episode of 9 flashes last week.
"We have been thinking of a name for her and my wife says 'Fearless Magpie'. I was thinking of less complimentary names like 'recalcitrant' but my wife's choice is better and has stuck. We look forward to many more daily episodes of interaction and hope that 'Fearless' will learn to accept us in her garden.
"Some images of the lady and a YouTube video I managed to get handheld here:"
Dato' Dr Amar-Singh HSS
Canning Garden Home, Ipoh, Perak, Malaysia
29th July 2011