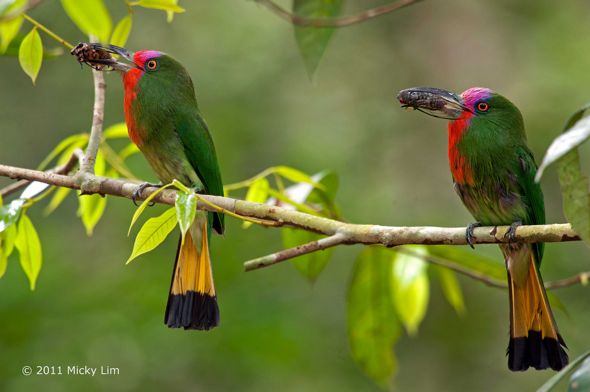 The above image of a pair of Red-bearded Bee-eater (Nyctyornis amictus), each with a cicada in its bill, is a composite image of two individuals photographed by Micky Lim a.k.a. limmick. The picture was taken in the Malaysian's state of Johor, at the Panti Bird Sanctuary in April 2011.
The composite shot consists of two separate pictures. Micky had both birds within a frame but due to depth-of-field problem, both could not be in sharp focus at the same time.
Cicadas are a favourite food of many birds. Make a search of this website using the word "cicada" to view our earlier posts on this.
This post is a cooperative effort between NaturePixels.org and BESG to bring the study of bird behaviour through photography to a wider audience.
Micky Lim
Singapore
June 2011