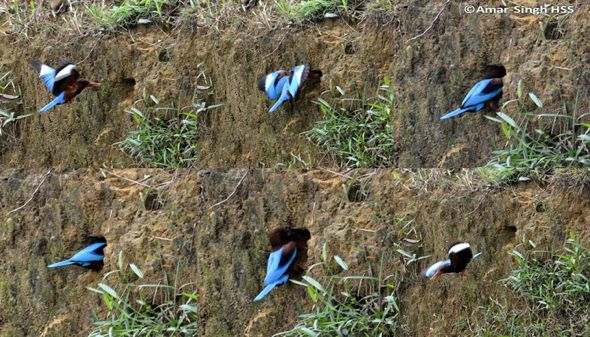 "These past two weekends I have spent some time looking for and observing White-throated Kingfishers (Halcyon smyrnensis) nesting. As they are common locally, with one almost ever 0.5-1 km, I explored a 2 km radius from my home in the city. I used my car as a hide, with windows up (as White-throated Kingfishers are very shy to approach), and stopped whenever I spotted a kingfisher on a wire or tree. Once I am sure behaviour suggested a nest I would spend more time at the location.
"I spotted six nests. More were breeding but I was not successful in spotting the nest and did not want to alarm nesting birds. Seemed like most kingfishers were nesting.
"Comments on the nesting sites/holes used:
1. Four were roadside banks of earth, some grassy, other dirt.
Most were adjacent to a drain or road. The height varied from 0.5 meter from the drain/road to 1.5 meters. Some were in plain sight of passing cars.
2. Two used artificial, man-made, holes. One was a drainage hole from the retaining wall of a home. The other drainage hole of the retaining wall adjacent to a drain.
"Limited my time at each site to minimise trauma. Took pictures from a distance with the camera kept within the car. At many sites view were limited by position of the hole.
"One particular site, in full view, allowed me to capture a series of pictures and a short video (hindered by passing cars). Only one adult was seen bringing food to the young. Feeding frequency was frantic during my short observation with 2-3 episodes per minute (the bird dropped down to the grass by the drain side to forage out of view; it was at 9.45am )."
Dato' Dr Amar-Singh HSS
Ipoh City, Perak, Malaysia
25th December 2010