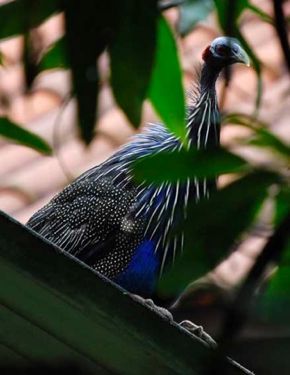 N Sivasothi alerted BESG on Karen d'Almeida's encounter with a Vulturine Guineafowl (Acryllium vulturinum) on 26th January 2011. Siva is of the opinion that this African bird may be an escaped pet. It was seen on the roof of a house in Upper Serangoon Road, Singapore. Karen's report appears below:
"Was out for about 2 hours, during which there were another couple of heavy showers (it's been raining all day!). It's not on the roof any more but will keep an eye out for it.
"Before I managed to get you, I tried to send a note to the BESG site but don't know if that got through. It's such an unusual looking bird that I was really curious to find out what it was…
"So just to fill you in – that shed roof is 2-tiered, so there's a bit of an overhang which I think the bird was using for shelter. However, I noticed that the rain didn't seem to phase it at all – it sat on the edge of the roof in the pouring rain even though it could have moved a couple of feet to the overhang.
"We only noticed it around lunchtime, and it was quite curious about us, peeping over the edge of the roof to watch the activities of humans and dogs. When I approached it to take pictures, it didn't shy away. It even seemed interested when I spoke to it! LOL. It remained at the edge of the roof almost the entire time, which overlooks a very overgrown corner of the garden – mango tree over a somewhat wild sweet potato patch – and also the same corner that a Blue-winged Pitta favoured for a couple of weeks in November-December.
"Ours is an older neighbourhood with a lot of established trees and gardens, so hopefully it finds somewhere better to feed and shelter.
"Will keep you posted if there are any developments."