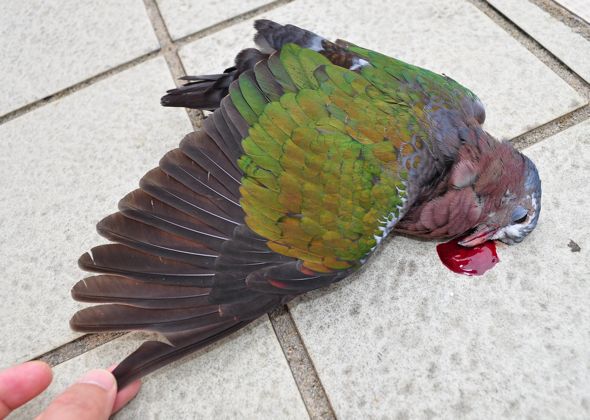 "On the evening of 13th January 2011 (ca. 5:30pm), the lifeless body of an Emerald Dove (Chalcophaps indica) was found on the ground at my residence at Telok Kurau (above). It was lying on the floor tiles, with a small pool of congealed blood that had emanated from its bill.
"It was identified to be a male specimen, based on its blue-grey crown and nape, white on forehead and eyebrow, whitish double band on upper rump, white patch on lesser coverts (below).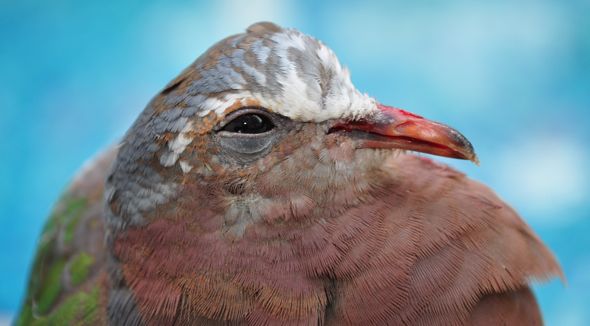 "When carefully examined, its body was still limp and had not undergone rigor mortis as yet. This indicated that the accident must have happened less than an hour ago.
"At the accident scene, its body was situated at the base of a series of closed windows (north-facing) which advertised clear reflections of the surrounding vegetation. The unfortunate bird would have been flying low in a southerly direction and accidentally crashed into the window, resulting in cervical dislocation and other internal injuries. The prevailing north-east monsoon winds might have even accelerated its flight velocity, hence increasing the force of impact against the window.
"The Emerald Dove will subsequently be deposited at the Zoological Reference Collection of the Raffles Museum of Biodiversity Research for further forensic investigations if necesary."
Dr Leong Tzi Ming
Singapore
14th January 2011