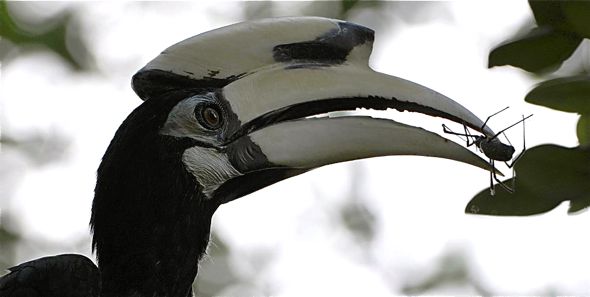 Dr Tan Heok Hui documented a male Oriental Pied Hornbill (Anthracoceros albirostris) feeding on a golden orb spider (Araneidae: Nephila pilipes) at Singapore's Sungei Buloh Wetland Reserve on 1st July 2010.
The hornbill found his way onto a trunk of a mangrove tree, broke off some small branches and proceeded to snap in the air at an unseen object. It was only when Heok Hui focused his camera on the bill did he realise that the hornbill had caught a large golden orb spider. "The hornbill proceeded to manipulate the hapless spider in its bill (above), crunching it a few times (audibly), before finally consuming it."
Thereafter the hornbill proceeded to preen itself.
Image by Dr Tan Heok Hui.
Reference:
Tan, H. H., 2010. Spider-feeding behaviour of the oriental pied hornbill. Nature in Singapore, 3: 283-286.