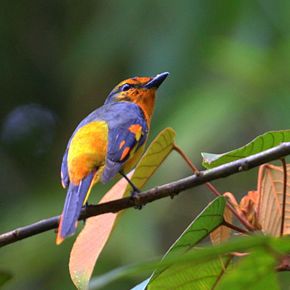 "I came across this unusual looking 'minivet' whilst birding at Old Pump House Road, Genting Highlands, Malaysia on 6th Nov 2010 (left). It was a lone bird and was with a bird wave comprising the male and female Grey-chinned Minivets, leafbirds, drongos, Mountain Fulvettas etc. I would be most grateful for assistance to ID it," wrote Henry Goh. Se we sent the image to various of our contacts for comments.
KC Tsang thinks the colour of the bird looks a little 'artificial' and wondered if the image had been photoshopped. (It was only sharpened a little.)
Ng Bee Choo believes that it could be a juvenile Fiery Minivet (Pericrocotus igneus), it being much smaller that the Grey-chinned Minivet (P. solaris).
R Subaraj believes it may be a young male minivet or one with an odd colouration.
Dennis Young, who was sent the image by Subaraj, replied, "A really 'strange minvet'. Not something I've seen yet. Robson (2002)'s description of the 1st summer male of the Long-tailed Minivet (P. ethologus) comes closest to the bird in the pic. Perhaps you ought to put it on the Web and see what happen. Do let me know when the dust has settled down on the bird's id, won't you?"
The jury is still out. So any further opinion is welcome.