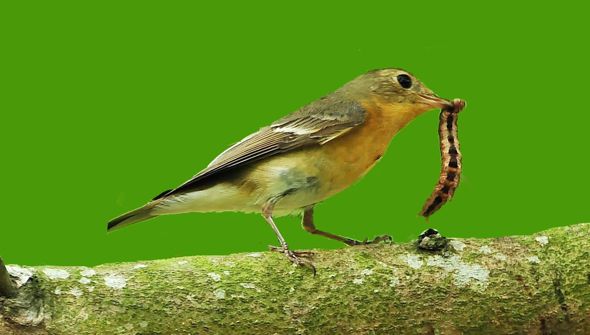 In early December 2010, Johnny Wee photographed a Mugimaki Flycatcher (Ficedula mugimaki) with a caterpillar in its bill at Singapore's Bidadari Cemetery (above). According to KC Tsang, this is probably a first winter male. An uncommon passage migrant, this flycatcher has been photographed many times before, but not with a caterpillar in its bill. This migrant arrive as early as September, to peak in December.
Flycatchers generally feed on insects and other arthropods. According to Taylor (2006), most feeding records come from their breeding areas in the Western Palaerctic and to a lesser extent, Africa. The feeding habits of Asian species are poorly known. Mugimaki Flycatchers are believed to take small invertebrates, seeds and fruits.
Johnny's observation, accompanied by the above image, is thus an important food record. According to biologist Dr Leong Tzi Ming, the caterpillar is most likely that of a noctuid moth.
Reference:
Taylor, P. B., 2006. Family Muscipapidae (Old World Flycatchers). In: del Hoyo, J., A. Elliott & D. A. Christie (eds.). Handbook of the birds of the world. Vol. 11. Old World Flycatchers to Old World Warblers. Lynx Editions, Barcelona. Pp. 56-163.