"In November 2009, it was mentioned in the Mating of Grey Herons (Ardea cinerea) that their nesting site had been abandoned abruptly; thwarting what could have been the start of a new heronry. I am pleased that after less than one year, the Grey Herons were back in numbers, and this time, they were breeding successfully. The birthplace for this new heronry was at a stretch of Sungei Tampines; located in Pasir Ris Park. An earlier posting by Thong Chow Ngian had, in fact, given a glimpse of one of the nests in this new heronry.
"When nest building was first discovered in early July 2010, the nests were already taking shape. Hence, it can be deduced that commencement of this heronry would likely have begun earlier; probably in June 2010. After more than four months of activities, this colony of Grey Herons and heronry is still very much alive. Some of the early breeding pairs had completed their breeding cycles; producing handsome juveniles that had already graduated and earned their "wings". As of late October, new breeding pairs of Grey Herons were still converging to this heronry as new nests were still being added. Meanwhile, at least one nest that had been vacated by fledged juveniles had disappeared without a trace; most likely due to recycling of nesting materials.
"Amazingly, this colony of nesting Grey Herons is located just a stone's throw from Escape Theme Park and Wild Wild Wet. These are commercial establishments that regularly blare out loud music. The sounding of gongs and loud music coming out from Escape Theme Park is particularly offensive to the quiet environment of a nature park. It is mystifying that the breeding herons were tolerant of such noise; remaining calm and not disturbed by the ruckus. They must have grown familiar to such noise.
"Although there are plenty of visitors to Pasir Ris Park, there are not many who are aware of the presence of Grey Herons. To the untrained eyes, the nests and birds are apparently quite invisible from public view. To illustrate, a picture is attached showing the park connector, which is a track between Escape Theme Park and the heronry. The track is running parallel to the river. Unless it is revealed, nobody would have guessed that the heronry is just behind the trees that is on the right side of the cyclist! (above left). Anyone on this track will not have the slightest suspicion that there are herons close by if the herons did not fly or vocalise. The herons had cleverly built their nests such that they are subtle and inconspicuous. The heronry is similarly obscured from view from the mangrove boardwalk that is on the opposite side of the river. In fact, the heronry is protected by the dense mangrove trees and other shrubs surrounding it. A mangrove jetty that juts out into Sungei Tampines provides the only unblocked view of this heronry from the river. An overview picture of the heronry as viewed from the jetty is attached. The red rectangle in the picture indicates where most of the nests were (above right).
"There were many nests but no one is sure of the numbers. Most of the nests were built high, near the crown of the tall mangrove trees that lined both banks of Sungei Tampines (above, below). Only a handful of nests were in good view with many either fully or partially blocked from view due to the dense vegetation. In August, an attempt was made to count the number of nests. There were eleven nests visible around the red rectangle and seven nests visible on the opposite bank. Although hidden from view, at least a few nests could be determined by the way the herons flew and landed. Hence, in total, there should be more than twenty nests. There must be more nests now due to late breeding pairs that added new nests.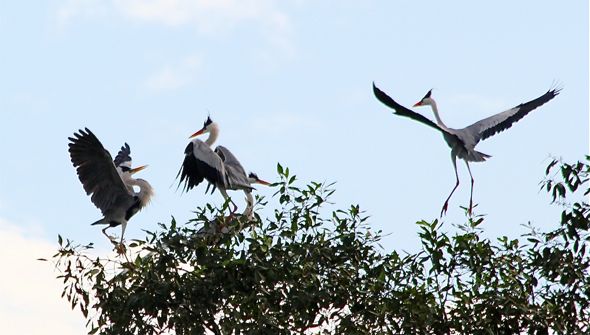 "Though not disturbed by the commercial and human activities that were nearby, a real threat to the breeding herons is from the omnipresent crows. There was an occasion where a sizable flock of about 50 crows flew a few times above the heronry. As they flew, their loud cawing calls were rather intimidating, but the incubating herons tolerated and sensibly stayed inside their nests. The crows left without incident on that occasion. On other occasions, it was common to find a few crows perching close to the nests as they wait for opportunities.
"Talking about crows, once there was somebody who contacted National Parks Board requesting for them to shoot the crows as he was concerned for the welfare of the breeding herons and mindful about crows raiding their nests. Not sure if that is a good idea as shooting of crows may pose a high risk of frightening the breeding herons and may even end up with the herons abandoning their nests altogether. How National Parks Board responded and whether crow culling did take place was not known. How would you get rid of crows and yet not frightened off the nesting birds? My humble opinion is to let nature take its course.
"Stay tuned for more observations of the Nesting Grey Herons."
Kwong Wai Chong
Singapore
15th November 2010