"I was driving out and saw this white pigeon, which I think was a juvenile Rock Pigeon (Columba livia), in the middle of a road in my condo enjoying the cool air and morning sun. This was after an overnight heavy shower cleared the highly polluted air that enveloped Singapore for the past few days.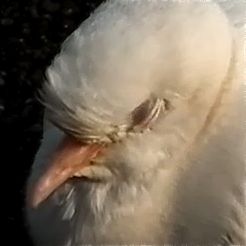 "It was so innocent that three cars went past it with a mere clearance of 1 to 2 feet but it remained unmoved. I had to gently shoo it to the side of the road for its own safety. In so doing I came to within touching distance of the bird.
"A short video showing the juvenile enjoying the morning sun, taken from a distance of about 3 to 4 feet, can be viewed here:
Sun Chong Hong, Singapore, 25th October 2010
Note: If you look carefully at the video, you will note that both eyelids play a part in the closing of the eye. The upper eyelid drops halfway while the lower moves up. The image on the left is a screen grab that shows the same thing. Check out an earlier post on eyelids HERE.