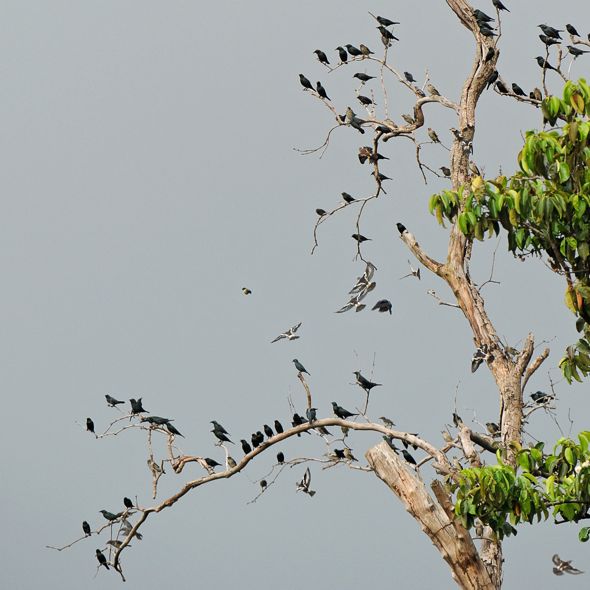 Richard Lim sent in an account of the roosting of a mixed flock of starlings accompanied with images photographed on 17th October 2010 by friend Ms NM Ong. The starlings were roosting on the bare branches of a dead tree along Singapore's Serangoon Road (above).
The flock consisted on the lighter plumaged Daurian (Purple-backed) Starlings (Sturnus sturninus) and the black plumaged Asian Glossy Starlings (Aplonis panayensis).
Although the two species of starlings roosted in the same tree, they flew in separately, probably from different locations (above). They probably will similarly fly out the next morning in different flocks, each going to a different foraging destination.
The birds were very noisy when they arrived at the dead tree. They moved frequently from the bare branches of the dead tree to the leafy branches of nearby trees. Apparently they appeared disturbed by the presence of the large numbers of mynas and Pink-necked Green Pigeons (Treron vernans) that were around.
The starlings kept moving from one tree to another, but ended up settling on the bare tree. "Perhaps they were driven from the leafy trees?" mused Richard.
Purple-backed Starlings are common winter visitors and passage migrants to Singapore. Large numbers begin to arrive in September and October and again in March.