Forward
Janet Fung and her husband, Wang Yee, joined her cousin, Amy Tsang and her husband, KC Tsang, both of whom are birders, together with fellow birder, Willi Kwek, for a 12-day birdwatching trip to Sri Lanka. The period of their visit was 4-14 July with dry and sunny weather in the lowlands and highlands. The only heavy rainfall experienced was birding at the Sinharajah forest on 13 July.
The prime objective of the trip was to spot and photograph birds. The areas visited included Habarana, Kandy ( Botanic Gardens & Udawattekele forests), Nuwara Eliya (Haggala Botanic Gardens & Horton Plains), Yala National Park, Uddawalawe National Park, Deberawewa Wetlands.
*Annex A gives the list of birds sighted. The group managed to see 11 or one-third of 33 endemics listed in Gehan Wijeyeratne's booklet on 'Endemic Birds of Sri Lanka.' (Note: there are disputes on what is considered endemic. There are many subspecies labelled endemic in GM Henry and Gamini Ratnavira's bird guides.) Willi and Amy also observed and photographed butterflies and dragonflies as they had developed a recent interest in these subjects. *Annex B gives the list of butterflies sighted.
It was a very enjoyable and fruitful holiday as Janet and Wang Yee became increasingly fascinated by the wide variety of birds in the country, and followed the natural birding rythmn of the group which is to stop whenever good birds were spotted. Such flexibility in timing allowed the group to enjoy the birds as much as possible, and it was a standing joke amongst the 6-member group that 'we will arrive (at our destination) when we arrive…!
Attached below is Janet Fung's account of her experience as a fresh birder in a rich birding environment such as Sri Lanka. She also shares her enjoyment of other aspects of nature encountered on the trip, as well as the people met and cultural insights gained.
A new birder's perspective of birding in Sri Lanka and other insights by Janet Fung
As a busy general practitioner balancing my little world of work, keeping up with medical literature, various community and family commitments and bringing up a family, I have had very little time for birds. But the invitation to go on a 10 day holiday to Sri Lanka with my cousin and friends who are avid birdwatchers was too exciting to resist. Something different from the routine, something new to learn about! We figured even if we got tired of birds we would still enjoy long walks in the forest reserves and plants and trees in the Botanical Gardens.
What we experienced was so much more than what we expected! Every day was a rich and interesting learning experience. Never having been to Sri Lanka, we had only heard about the precarious political system struggling with and finally overcoming the Tamil Tiger rebels in the North, their high literacy rate and the rich biodiversity of the country that is Sri Lanka.
Armed with borrowed binoculars and bird guide books, we saw over 150 different birds over the 10 days we were there, explored and hiked over beautiful hills and plains, enjoyed numerous Botanical Gardens full of different fauna and flora unique to Sri Lanka. Thanks to our very experienced friend and guide Aloy Diaz and our sharp eyed, safe, steady and capable driver Upul, we were treated to so many beautiful colourful birds and butterflies. We learned about the rich and long cultural history of Sri Lanka, the wet and dry weather divisions that necessitated the early construction of deep and large reservoirs they refer to as "tanks" which look more like large beautiful lakes teeming with wildlife. As a result of the long standing political unrest over decades, many capable Sri Lankans have left, leaving the country relatively underdeveloped and in its pristine natural state which for naturalists is ideal for bird watching!! Having been colonised by the Portugese, Dutch and British, there are many historical and UNESCO heritage sites/ towns, beautiful beaches, resorts, and forest reserves to satisfy many varied interests.
Similar to how Australians flock to Bali for the exotic Asian experience, we found many European tourists and returnee Sri Lankan immigrants at the clean, well serviced and comfortable 4 star resorts we stayed at. On arrival at Chaaya Village Habarana which is north east of Colombo, we were treated to a very close sighting of a juvenile Changeable Hawk Eagle devouring its freshly caught wild Black Naped hare. It was eating so intensely, it was practically oblivious to our friends who got closer and closer to video and photograph the scene! That experience set the stage for the exciting introduction to many other birds some of which are endemic to Sri Lanka.
We learned about the difference between the Common Indian Cormorant and the Oriental Darter in Habarana. We chose to spend 2 nights at each resort so we could relax and enjoy its surroundings. The most interesting and unique place of all was Kalu's Hideaway at Walawegama, Udawalawe, beside the Udawalawe National Park. This small, cosy boutique Hotel is one you might choose to go to on a honeymoon. It is tucked away far from the maddening crowd. As I lay on the hammock, relaxing and reading, I thought to myself – ah! a taste of heaven. The Sri Lankan food was to die for and the best we enjoyed throughout the whole trip.
The advantage of our small group of 6 was that we could all fit very comfortably into the air-conditioned minivan. We joked and sang gustily throughout the journeys, stopping along the way as long and as often as we wanted for bird sightings…..sometimes wondering if we would ever reach our destinations. We all heartily agreed that the journey was as important as the destination as it is often the case in life as well. It was a blessing to be with great company of similar mindsets! We watched with childlike fascination a pair of Sri Lankan Bush-warblers painstakingly build their nest deep in the Udawattakele Forest Reserve in Kandy. A pair of mating Monitor Lizards in the pond nearby was sighted and many wild Macaque troops made their presence felt as they leapt from tree to tree. The old large trees felt like they had been there since the beginning of time and lianas draped across their branches. Many bird songs were heard and identified. It was a magical experience and we felt so privileged to enter their world of truly pristine nature at its very best.
We had been looking for the elusive Pheasant-tailed Jacana and finally found many gorgeous ones at the Debarawewa tank. It was also there that we saw 2 trees bare of leaves but host to at least 14 different species of birds in their branches with a large crocodile lying very still between the trees to catch the falling hatchings!! The variety of birds and butterflies was so great that every evening we sat down after our meal to discuss, record and share what was seen for the day as there was so much information learned and seen that it would be impossible not to do it on a daily basis!
In case you think we only saw birds, there was a large flock of bats leaving in the thousands in the evening sky to roost in their favourite trees in Kandy's Royal Botanical Gardens, an endangered large star tortoise which we stopped to help cross the road, giant squirrels, pythons and vipers, a friendly little village boy who gave me a bunch of wild lotus flower bulbs and introduced us to his family who lived very simply in a little makeshift house. So little they had, yet so warm, friendly and happy! We stopped along the way to visit a herbalist at Luckgrove, Matale who taught us all about the natural herbs they use for various conditions and treated us to a herbal massage which was most relaxing.
No trip to Sri Lanka would be complete without visiting her famous tea plantations. We sipped fragrant tea at Mackwoods Labukelle after taking the tour through the tea making process, and enjoyed the most refreshing fresh yoghurt at Ambewela Farm. It was so good we all just had to have second helpings!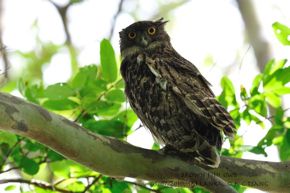 Kandy was cool and reminiscent of Cameron Highlands. The crisp morning air helped wake us up on our 4-wheel vehicle we had to take to the Horton Plains where we went looking for the elusive Sri Lanka Whistling Thrush. We ended up waiting and watching but were to see many other birds instead, including the Pipit, Great Tit, Sri Lankan Jungle Fowl, (male and female), Pied Bush Chat and the Velvet-fronted Nuthatch. We thoroughly enjoyed walking to the World's End which was at the edge of a plateau on the Horton Plains where the steep edge looked like it would drop straight into the clouds.
At the Haggala Botanical Gardens in Nuwara Eliya, we were treated to a flock of endemic Scimitar Babblers playing around the bushes and trees. As we continued to explore the gardens a gorgeous bright blue Asian Flycatcher sat contently on a low branch for us to oogle at.
By the time we reached Yala Village on the South East Coast, we were totally enchanted by the simple beauty of Sri Lanka and its people. At Yala, we saw and photographed elephants, and turtles basking on the rocks, Ibises, Painted Storks, Pied and Common Kingfishers, Adjutant Storks, Cormorants and Oriental Darters, Spot Billed Pelicans, Open Billed Storks, Peacocks and Peahens, Thick Knees, colourful bee eaters and many other birds. To see them in the reserves surviving wild and free made even the thought of keeping animals in a well kept zoo somewhat sad. Sure life in the wild is tough, exposed to the elements, droughts and floods but those who survived looked happy and healthy.
Our final destination was a UNESCO Heritage site called Singharaja Forest Reserve. Unfortunately, upon our arrival the tropical rain storm that had been brewing decided to unleash her gallons of rain upon us. We hurriedly put on our raincoats and ran to the nearest shelter when our guide spotted a brown viper looking incredibly like the root of a plant on the edge of a pond. This was the only reserve that was literally teeming with leeches and we really had to watch each other's backs, legs, arms and necks as leeches seemed to come from nowhere and everywhere. Thankfully, leech bites are absolutely painless and the only problem is the blood that oozes from the wounds and stains one's clothes. Despite the leeches, the truly rich birdlife warrants another visit on another day with better weather. The birds were taking shelter and barely singing that morning but we saw a very fresh and beautiful butterfly – the Commander (Moduza procris) and a pair of mating tree frogs.
Back in Colombo we explored the bookstores, silk and gem shops and had trouble believing that 10 days had passed all too quickly like a dream. We plan to go back as there is so much more to see!
Other Trip Information
Costs
The 12-day tour costed $1800 (Spore) per head/twin-sharing, inclusive of return airfare from Singapore on Emirates airlines. Most of the hotels stayed in were 4-star rated e.g. Chaya Village in Habarana, Chaya Citadel in Kandy. The tour included all breakfasts and dinners (except for one dinner). Lunch was not included as this is a birding trip and lunch timings at restaurants would be difficult to determine. On some days, the group was satisfied with fruit lunches as this afforded more birding time!
Freelance Nature Guide, Mr Aloysius Diaz, accompanied the group. He works for Walkers Tours Ltd. Email contact: [email protected], tel: +94 (0) 112306480.
*For the annexes, please click HERE, scroll to the bottom and look for the "Attached Files" where they can be downloaded.
Images: Top left = Tickell's Blue Flycatcher (Cyornis tickelliae); top right = Shikra (Accipiter badius); middle = Changeable Hawk Eagle (Spizaetus cirrhatus); bottom = Brown Fish Owl (Ketupa zeylonensis).