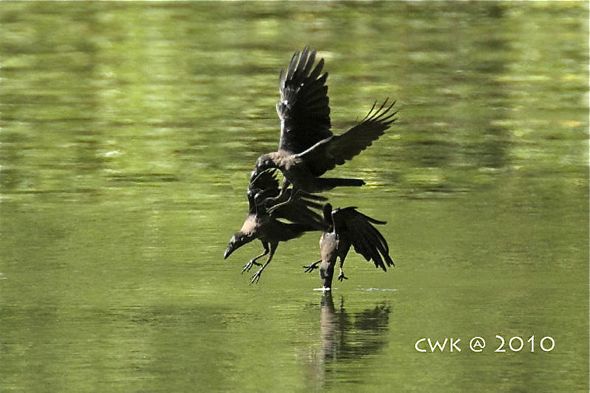 House Crow (Corvus splendens) are scavengers. They hang around rubbish dumps and anywhere where there are scraps of food to forage on. Basically omnivorous, they eat anything from grains, fruits, flower nectar to kitchen scraps. Insects are a regular food, taken on the wing or from exposed perches.
Being scavengers do not mean that they are not efficient hunters. They regularly raid bird nests to take the eggs and chicks. They have been reported to have caught a rat and also a bat.
They also regularly fish in shallow waters or even dive into slightly deeper waters, albeit awkwardly, as shown in the image above by Dr Jonathan WK Cheah.
Reference:
Madge, S. & H. Burn (1999). Crows and Jays. Christopher Helm, London.