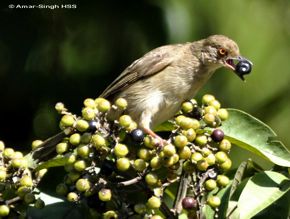 Red-eyed Bulbul (Pycnonotus brunneus brunneus), as the name implies, has red prominent red eyes. But sometimes the eyes appear red-orange – see also HERE.
The adult (left) with a juvenile in tow that Dato' Dr Amar-Singh HSS encountered at the Kledang-Sayong Forest Reserve in Ipoh, Perak, Malaysia on 30th June 2010 were feeding on berries from an unidentified jungle tree. Both were swallowing these relatively ripe berries.
Note that the eyes of the juvenile are brown (below-right), compared to the red-orange eyes of the adult.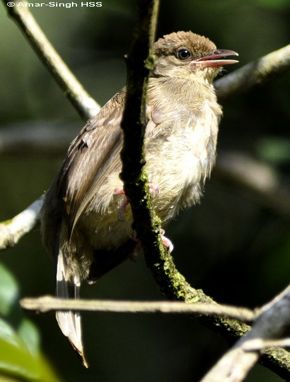 Amar has attached a recording of the calls of the juvenile. Calls of the Red-eyed Bulbul are not adequately documented locally. The recorded calls have been modified with software to remove the rushing river background noise (noise reduction function). The software used by Amar is Audacity, a free programme written by a worldwide team of volunteers.
The Red-eyed Bulbul is resident in both Malaysia and Singapore, although it is now uncommon in Singapore. According to Wells (2007), the species is near threatened locally.
Reference:
Wells, D.R., 2007. The birds of the Thai-Malay Peninsular. Vol. II, Passerines. Christopher Helm, London. 800 pp.