"I have long searched for the nest of the Zitting Cisticola (Cisticola juncidis malaya). On Saturday [29th May 2010], by chance, found one less than 600 meters from my home. This is a large field of Imperata cylindrical grass (awaiting housing development).
"The Zitting Cisticola nest is called the 'luck bird's nest'. According to G C Madoc (An Introduction to Malayan Birds, 1956), my 'sifu' in bird behaviour: '…. placed in the middle of a meadow, it is very difficult to find. I believe that this may be the lucky bird's nest mentioned by Winstedt in Sharma, Saiva & Sufi. The author describes how a pawang (Malay medicine man) taking the soul of the rice, may choose ears from stalks with a lucky bird's nest at the foot.'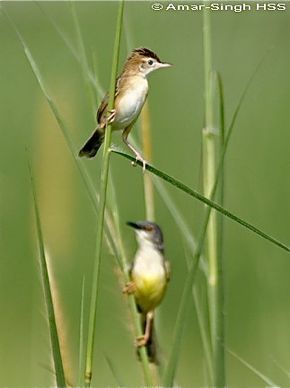 "I consider myself very 'lucky' to have found it, but the credit must really go to a friendship that exposed this nest to me. I happened to be checking the environment around my home, so as to never to become blasé about what some call 'common birds'.
"I walked far into this large field of Imperata cylindrical grass when I noticed a female Zitting Cisticola and a male Yellow-bellied Prinia (Prinia flaviventris) (left). They were very closely associated and are, I subsequently discovered, nesting about 1 meter apart. When I chanced near their nests they both took off together to the same vantage point.
"Then returned to their nests when I was about 7-8 meters away. Because the Yellow-bellied Prinia was easier to spot, I was also able to locate the Zitting Cisticola deep in the tall grass.
"The Zitting Cisticola nest is extremely hard to spot. I obtained these pictures without touching the nest and used my camouflage cloth to rest on the grass and expose views. All measurements were made without touching. I had a quick look to make sure there were no eggs or young before proceeding. It was built 30 cm off the ground, the grass was about 85 cm tall. Nest height 9cm, width 5 cm, entrance 2.5×2.5 cm but irregular.
"The side view will show that the Zitting Cisticola combines some of the stalks of the Imperata cylindrical grass into the nest (above left). It is a very beautiful delicate nest, very much like a silk purse. The walls are thin and the opening smaller than the base. The interior picture is taken with flash and shows the delicate and intricate knitting – possibly grass, spider webs and cotton fibre (above right). The spiders have to learn a thing or two from these birds."
Dato' Dr Amar-Singh HSS
Near Canning Garden Home
Ipoh City, Perak, Malaysia
29th May 2010
For another perspective of the Zitting Cisticola's nest, see HERE.