The papaya (Carica papaya) is native to tropical America. Brought to this part of the world during the 16th century by the Spanish, it has since spread throughout the tropics. This spread is mainly due to humans who grow them in home gardens and farms for the fresh fruits.
Birds love the fruits, from the common Javan Myna (Acridotheres javanicus) (top left) and Yellow-vented Bulbul (Pycnonotus goiavier) (top right) to not so common hornbills and barbets.
Although we know what species of birds eat the fruits, do we actually know whether these birds eat the seeds as well? And in the process help disperse the seeds? These seeds are covered with a thin layer of translucent flesh and are attached to the inner surface of the seed cavity by fleshy strands (below). Thus when a seed is removed it brings with it a few neighbouring seeds.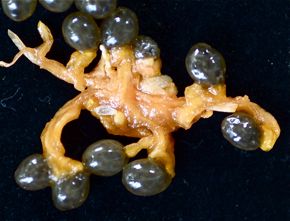 Mostly, the birds peck on the fruit, filling their bills with the soft flesh. The bulbuls feed singly or in a pair, taking beak-full of flesh and flying off to feed the chicks in the nest. They return every few minutes to repeat the process. If the mynas are at the fruit, the bulbuls wait patiently for their turn. The seeds are usually left alone until the birds finish eating the surrounding flesh. Then they began pecking around the area where the seeds are. Only then will a few seeds get removed and eaten. But do the seeds pass through the alimentary system unharmed to subsequently germinate?
YC Wee
Singapore
May 2010