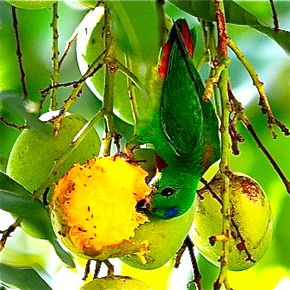 "I was doing my research and heard this loud tweeting sound – and decided to investigate and lo and behold – these gorgeous wild Blue-crowned Hanging Parrots (Loriculus galgulus) were feeding on the mango tree (Mangifera indica) in my front garden. I could not believe it but the green made it slightly hard to spot them. I grabbed my camera and got some shots, not the best but you can tell that there were definitely hanging parrots -1 May 2010. Absolutely gorgeous colors."
Georgina Tanya Sandhu-Chin
Singapore
1st May 2010
.
.
Note: We have earlier posts on the Blue-crowned Hanging Parrot eating rambutan (Nephelium lappaceum), guave (Psidium guajava), and oil palm (Elaeis guineensis) fruits.
Image by Georgina Tanya Sandhu-Chin.