In early January 2010, Kennie Pan a.k.a. knpan observed an interesting behaviour of a Long-tailed Shrike (Lanius schach) in Singapore. The bird suddenly flew to a grassy area and caught a lizard. It brought the prey back to a thorny palm where it impaled it on a long, sharp spine (above). Then the shrike attacked the carcass (below), bringing it back to its chicks in the nearby nest.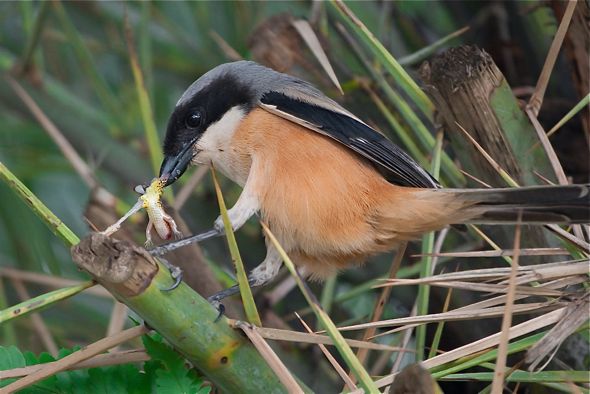 The Long-tailed Shrike is a common resident in Singapore. Although a songbird, it behaves like a raptor when hunting. As with other shrikes, it has the habit of impaling preys on sharp thorns, thus they are commonly known as 'butcher birds'.
The bill of the shrike is short and sharp, hooked at the tip. This Long-tailed Shrike shrike has a 'cross bill' – probably a birth defect, according to ornithologist Wang Luan Keng (left). Check out an earlier post on deformed bill in the Oriental Pied Hornbill (Anthracoceros albirostris) and other species HERE to understand this unusual condition.
The diet of these shrikes consists of large insects and small vertebrates that include songbirds, reptiles, rodents and even mammals. Although they generally capture small preys, there were instances when they caught and kill animals up to five times as large as their own body size. Like raptors, owls and a few other birds, shrikes cast pellets consisting of indigestible parts of the prey like bones, fur, skin and feathers.
Three years ago we posted a Tiger Shrike (Lanius tigrinus) dismantaling a scarab beetle.
We also mentioned that there had not been any local report of a shrike capturing a vertebrate prey or a photograph of a prey impaled by the bird. Thanks to Kennie we now have photographic evidence of the Long-tailed Shrike impaling its prey.
This post is a cooperative effort between NaturePixels.org and BESG to bring the study of bird behaviour through photography to a wider audience.