Joseph Chai a.k.a. rooster posted his experience with a pair of Spotted Doves (Streptopelia chinensis) nesting outside his highrise apartment in September 2009. Through the courtesy of Wilson Wong, we got in contact with Joseph who gave us permission to post his images.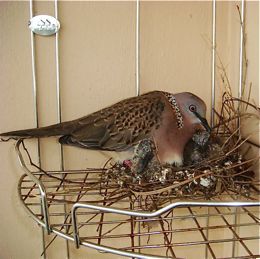 Because of the abundant greenery around the apartment building, there was an abundance of bird life. And the pair of Spotted Doves was comfortable enough to build their nest on one of the steel shelves placed outside (above left).
The nest is a simple collection of twigs and dried pliable stems of climbers and grasses, with a slight depression to hold the two white eggs so that they do not roll off the edge (above right). The eggs hatched and the two chicks grew rapidly, brooded by the protective parents (left). As with doves and pigeons, it can be assumed that the male brooded during the day and the female at night.
By October the chicks were about to fledge (below left). Unfortunately Joseph had to be overseas and by the time he returned later in the month they had fledge (below right). However, he saw the pair of adults recently adjusting the nest.
Will they return to lay more eggs? We have to wait and see.