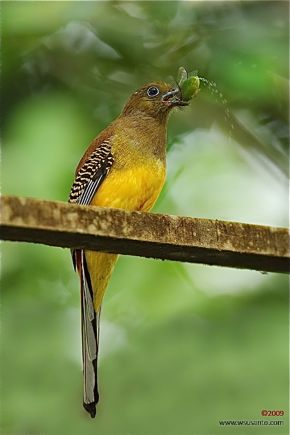 Willis' image taken at Bukit Tinggi in Malaysia in March 2009 shows an Orange-breasted Trogon (Harpactes oreskios) with a cicada clamped in its bill.
According to our bird specialist R Subaraj, "I am leaning toward it being a juvenile male. Firstly, it shows the pale gape of a juvenile bird. Secondly, the upperparts appear rather chestnut; belly and vent rather bright yellow; and pale and dark wings bars look similar in width… read Robson (2008)."
Dr Leong Tzi Ming, our faunal consultant has this to say: "This green cicada is most likely in the genus Dundubia (family Cicadidae). It is a male indivivdual, as the operculum may be clearly seen on its flanks. It is urinating, which is a clear indication that the cicada must have been feeding (sucking plant sap) shortly before it was captured by the bird. Cicadas urinate for prolonged bouts while feeding, as they have to dispose of large volumes of dilute plant sap to extract the valuable sugar content."
If you happen to be under a tree and it suddenly "rains" only below the crown of the tree, there may be plenty of cicadas feeding on the sap of the tree and passing out excess liquid from above.
The diet of the Orange-breasted Trogon according to Forshaw (2009) is mainly insects, with stomach contents showing grasshoppers, caterpillars, phasmid larvae, stick insect, beetles, neuropterid (group that includes lacewings and antlions) and spiders. Collar (2001) reports the species taking the above-listed insects including cicada, lizards and fruits.
Image by willis.
References:
1. Collar, N. J., 2001. Family Trogonidae (Trogons). In: del Hoyo, J., A. Elliott & J. Sargatal (eds.). Handbook of the birds of the world. Vol. 6. Mousebirds to Hornbills. Lynx Editions, Barcelona. Pp. 80-127.
2. Forshaw, J. M., 2009. Trogons – A natural history of the Trogonidae. Lynx Editions, Barcelona. 292 pp.
3. Robson, C., 2008. A field guide to the birds of South-east Asia. New Holland, London. 544 pp.
This post is a cooperative effort between NaturePixels.org and BESG to bring the study of bird behaviour through photography to a wider audience.