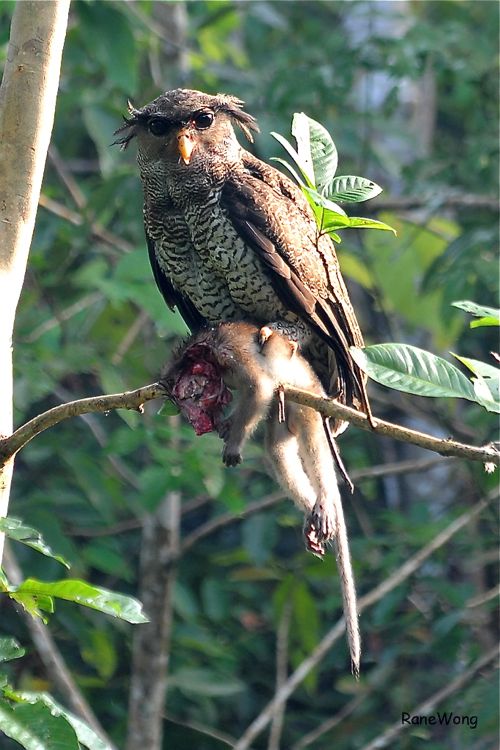 Rane Wong a.k.a. reno was at Johor's Panti forest one morning in June 2009 when he encountered a Barred Eagle-owl (Bubo sumatranus) perched on a slender branch of a tree with a monkey tightly clutched in its talons. The face of the monkey was ripped open, probably during the initial snatch before the owl took it to the perch.
Wells (1999) reports its food to include Town Pigeon and a red flying squirrel. Marks et al. (1999) give its diet as large insects and small mammals, especially rodents, snakes and small birds. There are no mention of monkeys been taken. Rane's documentation may well be the first record.
An owl generally strikes its prey with its legs and feet extended downwards and close together. The toes are spread wide such that the eight talons form a rectangle. The moment the talons strike the prey, they immediately close, squeezing it tightly. This is often followed by a bite at the back of the head, killing it instantly. Small preys are swallowed whole while larger ones are torn into pieces and eaten. The head and feet may be discarded.
Note: As pointed out by Ashley Ng in a comment below, the owl was first spotted by Ms Chin Chwee Kim.
References:
1. Marks, J. S., R. J. Cannings & H. Mikkola, 1999. Family Strigidae (Typical Owls). In: del Hoyo, J., A. Elliott & J. Sargatal (eds.), Handbook of the birds of the world. Vol. 5. Barn-owls to hummingbirds. Lynx Editions, Barcelona. Pp. 76-242.
2. Wells, D.R., 1999. The birds of the Thai-Malay Peninsular. Vol. I, Non-passerines. Academic Press, London. 648 pp.
This post is a cooperative effort between NaturePixels.org and BESG to bring the study of bird behaviour through photography to a wider audience.