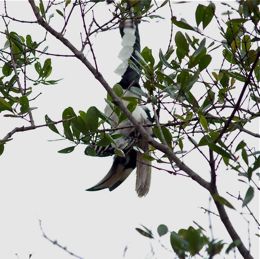 Wang Luan Keng received another dead bird recently. It was an Oriental Pied Hornbill (Anthracoceros albirostris), found dangling upside-down from a mangrove tree. It was caught on some fishing line left behind by some irresponsible people. The body was still a bit warm when it was retrieved. Autopsy results confirmed it was strangled to death. The adult female is mature and in fact, was almost ready to breed, having several large follicles in her ovary. The specimen is now deposited in the Raffles Museum of Biodiversity Research, National University of Singapore."
We appeal to amateur anglers not to discard their used fishing lines indiscriminately. So far, we have documented a few birds entangled. In most cases they either got strangled or died from starvation, unable to release themselves to feed. Anything you do not want, please discard them properly into bins.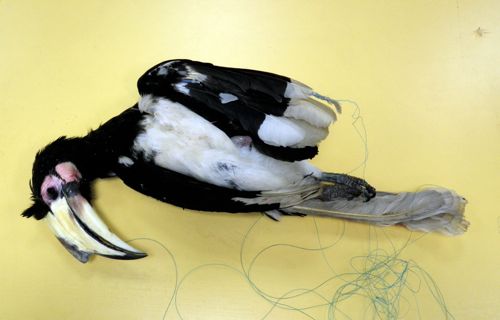 In April 2007, a Buffy Fish Owls (Ketupa ketupu) got entangled in a discarded fishing line.
In February 2008, a Little Heron (Butorides striatus) was found dead under similar circumstances.
In March 2008, another heron was also found dangling from a tree, again dead.
In May 2009, a Javan Myna (Acridotheres javanicus) was seen dangling from another discarded fishing in Bidadari.
Now, this…