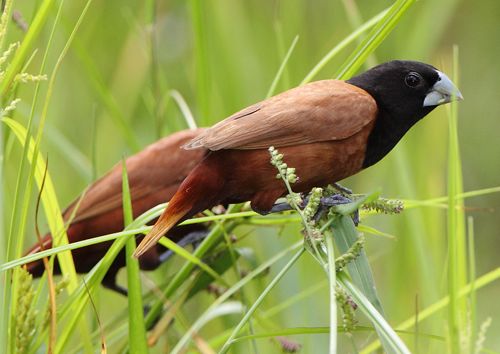 Chris Lee's images of the Chestnut Munia (Lonchura atricapilla) eating seeds of grasses were taken at Singapore's Pulau Ubin in May 2009. It shows the munia eating the seeds of the jungle rice or padi burong (Echinochloa colonum) (above). The image (below left) shows the bird eating seeds of possibly Panicum sp.
Lena Chow's image of a Scaly-breasted Munia (Lonchura punctulata) (above right), also eating Panicum seeds, was again taken at Pulau Ubin in May 2009.
We are documenting the foods of munias as well as other birds and would appreciate receiving relevant images for record purposes. Please see "Related Posts" for other articles on birds and the different foods they take.
This post is a cooperative effort between NaturePixels.org and BESG to bring the study of bird behaviour through photography to a wider audience.
References:
1. Duistermaat, H., 2005. Field guide to the grasses of Singapore (Excluding the bamboos). Gardens' Bulletin Singapore Supplement 57. 176 pp.
2. Gilliland, H. B., 1971. A revised floras of Malaya. Vol. III Grasses of Malaya. Botanic Gardens Singapore. 319 pp.
3. Henderson, M.R. (1954). Malayan wild flowers – Monocotyledons. Malayan Nature Society, Kuala Lumpur. 357 pp.
4. Keng, H., S. C. Chin & H. T. W. Tan, 1990. The concise flora of Singapore Vol. II: Monocotyledons. Singapore University Press & National Parks Board. 215 pp.