"When I was watching the Orientl Pied Hornbill (Anthracoceros albirostris) breeding site in Changi Village, I noticed that a pair of Scaly-breasted Munias (Lonchura punctulata) were nesting among the pigeon orchids (Dendrobium cruminatum) growing from the fork of a nearby angsana tree (Pterocarpus indicus) about 4-5 metres above the pavement, 2 metres from the busy Changi Village Road, right above a building site (pavement renovations), and 15 metres from a 7-Eleven.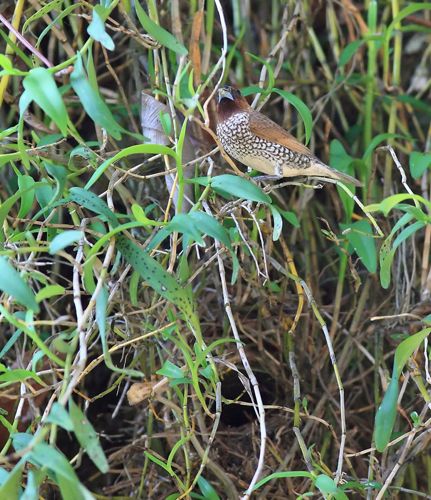 "I first noticed them briefly on 1st April 2009, and they were still there 7th May. They were very wary in their coming and going, and much of the time I scarcely noticed them – just a flash out of the corner of my eye. They are tiny, of course, compared to most of the other common birds in the village (Javan Mynahs Acridotheres javanicus, Red-breasted Parakeets Acridotheres javanicus, Tanimbar Corellas Cacatua goffini, Black-naped Orioles Oriolus chinensis, House Crows Corvus splendens) – and they darted in and out of the nesting area very quickly indeed, never pausing to perch on nearby branches or other trees.
"During the time I observed them, I was only able a couple of times to see them carrying what looked like nesting material. I never saw them carrying food. They usually arrived and departed together, and often one would stand guard while the other went into or very close to the nest. The nest was well hidden in the darkest part of orchid clump. Even so, I was surprised that they seemed able to hide it from the ever-watchful mynahs and parakeets, none of which I ever saw investigating the plants around the nesting area.
"I must stress however, that I was usually looking elsewhere, so would only have witnessed a small percantage of their trips to/from the nest.
"All this raised questions in my mind:
1. Is it usual for the Scaly-breasted Munia to nest in an urban environment?
2. I wonder what their normal nesting sites are — I always associate them with stretches of "countryside" grasses and would have expected them to be nesting there too.
3. Were they still building the nest? It looked quite mature, perhaps it had been used by them before…
4. Or, had the eggs been laid — but if so, doesn't one or both of them incubate the eggs?
"So I searched for information about their habits, and came up with this from this SITE:
"From this, it appears the species roosts in nests at night, but this pair was returning to the nest reasonably frequently during the day, and not spending much time there. Ria Tan says they are "found even in urban areas", so I suppose finding them where I saw them should be no big surprise.
"But I do still wonder whether they were breeding, or going through a long pre-breeding process…"
Howard Banwell
14th May 2009
http://www.pbase.com/howardbanwell
www.mytb.org/howard-and-lisa