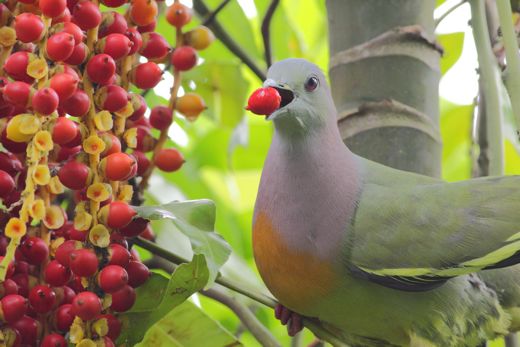 Huang Chee Thong a.k.a bloodlamb photographed a male Pink-necked Green Pigeon (Treron vernans) eating the fruit of the MacArthur palm (Ptychosperma macarthurii) by swallowing it whole (above).
We have an earlier post on the Yellow-vented Bulbul (Pycnonotus goiavier) swallowing whole fruits of the MacArthur palm. But we do not know whether the bird regurgitates the seeds or passes them out at the other end.
As for the Pink-necked Green Pigeon, we earlier suspected that it swallowed these fruits and later regurgitated the seeds. We now have evidence that this pigeon actually swallows the fruits but we still need evidence that it subsequently regurgitates the seed.
This post is a cooperative effort between NaturePixels.org and BESG to bring the study of bird behaviour through photography to a wider audience.