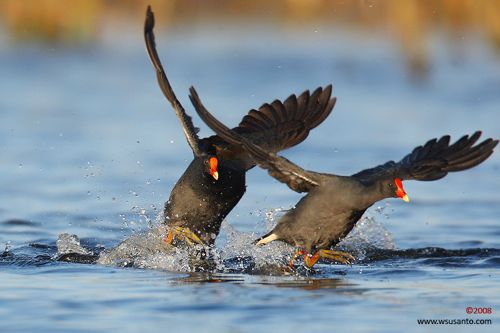 Willis was in Western Australia in December 2008 and visited Herdsman Lake in northwestern Perth. There, he encountered the Dusky Moorhen (Gallinula tenebrosa).
"Like clockwork, the moorhens will start chasing one another round the lake after 7pm. So I'm prone flat on the ground waiting for the action to start. And once in a while I have to check my surroundings to ensure the black tiger snake is not nearby… the black tiger snake is very common at Herdsman Lake and if bitten the mortality rate is up to 45%."
These rails are territorial, forming groups of up to seven birds, comprising of one to three males to a female. As the sexes cannot be easily differentiated, the pair in the lake can either be two males in aggression or a male and a female in courtship. Whatever it is, the birds are in their breeding mode, as seen from their red legs.
Dusky Moorhens are usually seen in freshwater, as long as there are floating or emergent vegetation. It feeds by day in water or on land, feeding on plants as well as insects, molluscs, fish and worms. By night these birds retire to group roosting sites above water, standing in reeds or shrubs to sleep.
This post is a cooperative effort between NaturePixels.org and BESG to bring the study of bird behaviour through photography to a wider audience.