Mark Chua documented a Crested Kingfisher (Megaceryle lugubris) when he visited Corbett National Park in India recently (left).
This attractive kingfisher is easily recognised from its shaggy crest when at rest. The upper body is barred black and white and has a white collar. Its typical habitat is small, fast-flowing, gravelly or rocky streams. It hovers (below right) but does not dive from such flight, unlike the Pied Kingfisher (Ceryle rudis).
.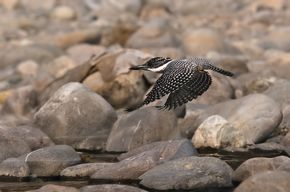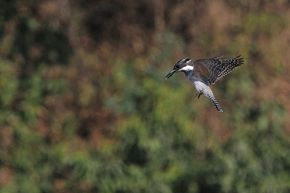 References:
1. Fry, C.H. & K. Fry, 1992. Kingfishers, bee-eaters and rollers. New Jersey, Princeton University Press. 324 pp.
2. Woodall, P. F., 2001. Family Alcedinidae (Kingfishers). In: del Hoyo, J., A. Elliott & J. Sargatal (eds.), Handbook of the birds of the world. Vol. 6. Mousebirds to Hornbills. Lynx Editions, Barcelona. Pp. 130-249.
This post is a cooperative effort between NaturePixels.org and BESG to bring the study of bird behaviour through photography to a wider audience.