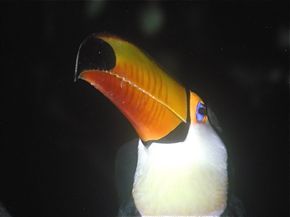 Earlier, we posted the sighting of a Toco Toucan (Ramphastos toco) perched on the TV anntena of a house at Seletar Hills in Singapore.
Later, Hai-Ren alerted us to the three STOMP posts, the Straits Times online website, one of which helped solve the mystery of the lost bird.
The first report was on 2nd October 2008 when John Phang sighted the toucan in Seletar Hills
On 3rd October there was a response by Paul who made a claim that the toucan was his pet.
However, the bird was still roaming around 19th January 2009 as it was reported visiting the balcony of Cheryl's home. The bird was tame and accepted the offer of a papaya.
Image by Ashley Ng.