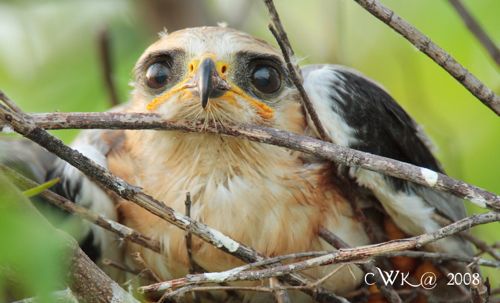 In July 2008, Dr Jonathan Cheah Weng Kwong posted an account of his favourite raptor, as follows:
"Black-shouldered Kite (Elanus caeruleus) have been one raptor of affinity for me. Almost two to three nestlings were found every year, some offered spectacular flights, some high resolution macros. They were also the first raptor that got me hooked with the hovering heli-flights as they spot their prey and then dive to the ground. I have witnessed mommy BSK teaching two kids to do that in the sunset, magical.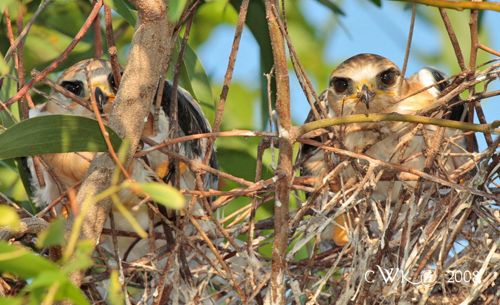 "The juveniles never bore me with their intense stares. A pair would normally show brotherly love by preening each other, using ones' own wing to shelter the other from the harsh sunlight. I have never seen any siblings fight in the nest. They got so used to me, that when they fledged, they allowed me to walk up to them for perch shots!"
This post is a cooperative effort between www.naturepixels.org and BESG to bring the study of bird behaviour through photography to a wider audience.