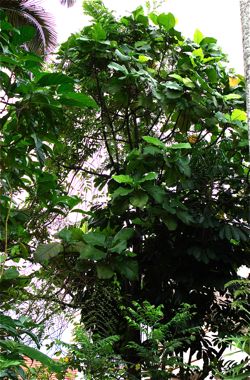 In my garden I only planted one tree, the exotic terap (Artocarpus odoratissimus). Some birds subsequently brought two umbrella trees (Schefflera actinophylla) that grew nearby. The crowns of the latter developed within the canopy of the terap.
Two butterfly plants, Bauhinia kockiana (below left) that grew along my fence and Bauhinia winitii introduced from Thailand (below middle), scrambled onto the terap tree. A white-stemmed button vine (Cissus hastate), again brought in by birds, grew and also scrambled all over the terap. I also grew a staghorn (Platycerium sp.) and pigeon orchid (Dendrobium cruminatum) on the trunk of the terap tree (below right).
So what have I? A mix of seven species, all growing together within and over the canopy of the terap tree, a seven-in-one tree, I call it (left).
Five of these are exotic species. Only the button vine and pigeon orchid are indigenous. What I need to do next is to introduce a strangling fig (Ficus sp.) and a mistletoe (Dendrophthoe pentandra, Macrosolen sp.) And maybe also a bird's nest fern (Asplenium nidus).
Each species of plant has its very own complement of faunal species. Bringing the different plant species together increases the faunal biodiversity. Also, each plant has its own attraction for birds, be it in the flowers or fruits.
So I get a wide array of bird species visiting the terap tree… Yellow-vented Bulbul (Pycnonotus goiavier), Banded Woodpecker (Picus miniaceus), Asian Koel (Eudynamys scolopacea), Javan Mynas (Acridotheres javanicus) as well as Black-naped Oriole (Oriolus chinensis) and Crimson-breasted Flowerpecker (Prionochilus percussus). When the white-stemmed button vine is in fruits, many birds visit to feast on them. These include Black-naped Oriole, Scarlet-backed Flowerpecker (Dicaeum cruentatum), Yellow-vented Bulbul and Javan Myna.
Singapore's Garden City tends to be lined with "neat" trees, each tree by itself with epiphytic and parasitic plants routinely removed. However, an exception has been made for the staghorn fern and pigeon orchid, but not for the strangling fig and mistletoes.
Allowing climbers, scramblers, strangling figs, epiphytes, semi-parasites, etc to proliferate together in one tree is good for the birds. We should try it in our parks, although it may look unruly along our roads.
YC Wee
Singapore
December 2008