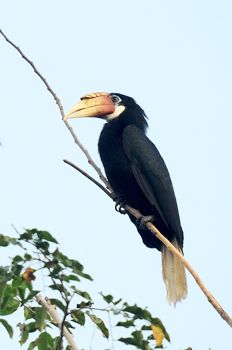 A Narcondam Hornbill (Rhyticeros narcondami), identified by Lim Kim Chuah, was photographed by a friend of KC Tsang early November 2008 at Bidadari Cemetery. This is an extremely rare hornbill confined to the Narcondam and Andaman Islands.
Listed as "Internationally Vulnerable" and in CITES II list, the population has always been small, thought to be initially about 200 individuals. The latest estimate is higher, at 295-320, with about 68-85 breeding pairs.
The hornbill is definitely an escapee.
After KC posted the image in BESG's forum, Ben Lee sent an image that he took on 17th June at Kent Ridge.
Ben has this to say: "Its true that this super heavy bird created such a large wing flapping noises that attracted my attention and not its size or anything. Fortunately on that day, no one was around. I immediate got my camera set up but unfortunate the head of the bird was partially blocked by a tree trunk. I just snap first before thinking of better angle. Soon it flew off (due to a large crowd of people coming) before I got a chance to get better angle view. So it is important to shoot before considering next step for nature photographer (for safety shot or to get evidence shot)."
Summerian Turks has this to say: "This is a female Blyth's Hornbill. The Zoo had some and this must be the one that took off somehow. I have seen them in trade couple of times here and they mostly come from Solomon Islands. I guess with the other hornbill species surviving for so long here, this specimen will do just fine.
"
Yong Ding Li added: "Ah…historically it was considered a race of the Blyth's Hornbill
 which in turn was considered synonymous with the Plain-pouched
 Hornbill. They are all now split as individual species in their own
 right. If you compare a photo a Narcondam and Blyth's hornbill, there
 are actually many similarities. However one distinguishing feature is
 the brownish coloration on the base of the bill for Narcondam. Blyth's
 has a overall pale bill. 

Narcondam Hornbill has the smallest geographic range of any hornbill
 in the world, it is confined to one of the Andaman group of islands in
 the Bay of Bengal, which is about twice the size of Pulau Tekong. 

Maybe a birdpark escapee again? Any chance?"
Apparently, people are losing more and more of their exotic hornbills.
And are we slowly becoming a "Singapore BirdPark"?