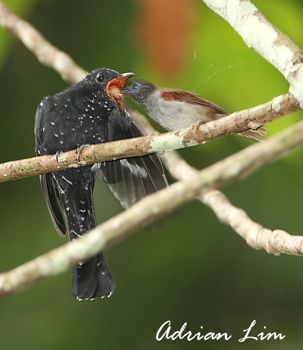 It is always pleasant to see an adult bird feeding its fledgling. It is sometimes puzzling to witness an adult feeding a fledgling of a different species. But when the fledgling is larger than the adult, it is a different feeling altogether.
I suppose this was what Adrina Lim a.k.a. wmw998 felt when he documented a babbler feeding a very much larger Drongo Cuckoo (Surniculus lugubris) that looks so very different. One wonders how the adult is not able to recognize that the baby is not her own.
"Well, this is the second time that I saw a cuckoo being fed by a little bird. The previous was back in 2004, when I was not into photography yet, and it was a different specie of cuckoo then, being taken care of by a pair of sunbirds… yes, sunbirds. This time, I had my tool in hand, and these are the shots that make me, a human being, feeling ashamed sometimes. Call it stupidity if you like, but in the animal kingdom, love does exist, unreservedly, between 'races' ! Just can't imagine such a tiny bird can bring up a bird five times its size…"
The fledgling, like all fledglings, simply sit tight on its perch and begged loudly all the time – for the parents to feed it. A growing chick, always hungry, has an insatiable appetite. The smaller adults need to work extra hard to feed the growing giant. Our bird specialist, R Subaraj identified the babbler as Chestnut-winged Babbler (Stachyris erythroptera).
This is another example of nest parasitism by the wily cuckoos.
Image by Adrian Lim.
This post is a cooperative effort between NaturePixels.org and BESG to bring the study of bird behaviour through photography to a wider audience.