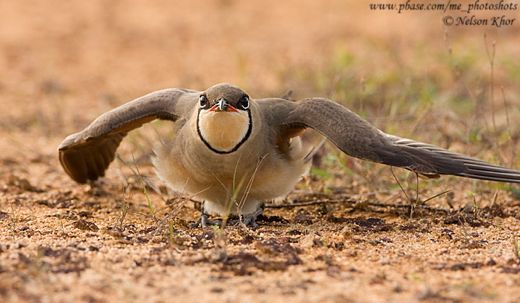 In June 2008 Nelson Khor posted images of the adult Oriental Pratincole (Glareola maldivarum) in breeding plumage and a juvenile, and commented that it: "Is common in Penang and Kedah in Malaysia, once they arrive, immediately they start nesting, when the juvenile are grown, they will start to move on and back to their home…"
The image of the juvenile above shows it stretching its right foot and wing at the same time. This appears to be a favourite comfort behaviour even with the adult (below).
Oriental Pratincole is an uncommon winter visitor and passage migrant to Singapore. In Peninsular Malaysia it a resident as well as a migrant.
The bird breeds in E Siberia, NE Mongolia, S Manchuria, China, India, Sri Lanka, S Japan, Taiwan, S Myanmar, Thailand, Peninsular Malaysia and as far south as Luzon.
It can be seen in open country, coastal pools, lakes, by rivers and dry rice fields.
This post is a cooperative effort between NaturePixels.org and BESG to bring the study of bird behaviour through photography to a wider audience.