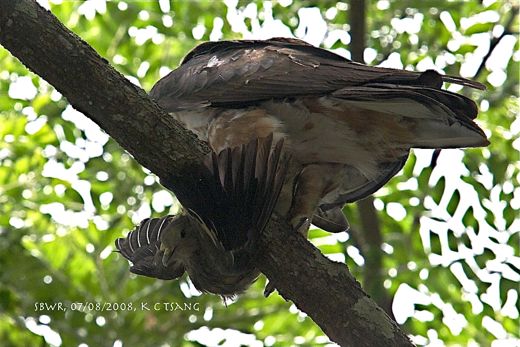 KC Tsang was at the Sungei Buloh Wetland Reserve on 7th September 2008 when he encountered a raptor catching a Pink-necked Green Pigeon (Treron vernans).
"We had a bit of drama and excitement at the carpark of SBWR, 12.50pm, as I was packing my equipment to leave, a raptor swooped on to a sleepy Pink-necked Green Pigeon on a branch just above us. A visitor yelled 'The eagle has got something.' So got my gear out of the boot, and started taking pictures. However a family nearby also saw where I was pointing my camera, started making a lot of commotion thus ended the whole drama when the bird flew away with his prey.
"
The raptor was a sub-adult Rufous-bellied Eagle (Hieraaetus kienerii formosus), a rare winter visitor and passage migrant. Its range includes Myanmar, Indochina, Thailand, the Malay Peninsular, south to Sumatra, Borneo, Java and the Lesser Sundas and the Philippines (Wang & Hails, 2007). In Singapore it is a rare winter visitor and passage migrant, arriving from early August to early May, reportedly together with migrating sparrowhawks and honey-buzzards (Wells, 1999).
This raptor is a typical aerial hunter, taking prey on or near the ground or on treetops, usually after a spectacular swoop. Cook (1911) reported a bird crashing through the foliage onto a party of green-pigeons in Myanmar. Chasen (1939) reported the raptor attacking Domestic Fowl, Town Pigeons, Pacific Golden Plover and Black-capped Kingfisher. Thiollay (1994) on the other hand documented the eagle taking birds like pheasants, junglefowl and pigeons, as well as mammals like squirrels.
You can view more dramatic images of this eagle at Mark Chua's website. Also, view the videos of an adult eagle that lost its prey to some Large-billed Crows at the Kaziranga National Park, India HERE.
References:
1. Chasen, F. N. (1939). The birds of the Malay Peninsular. Vol. IV: The commoner birds. H.F. & G. Whiterby, London.
2. Cook, J. P. (1911). Uncommon birds of Burma. Journal of the Bombay Natural History Society 21: 265-267.
3. Thiollay, J. M. (1994). Family Accipitridae (Hawks and Eagles). Pp. 52-205 in del Hoyo, J., Elliott, A. & Sargatal, J. eds. Handbook of the birds of the world. Vol. 2. New world vultures to guineafowl. Barcelona: Lynx Editions.
4. Wang, L.K. & Hails, C. J. (2007) An annotated checklist of birds of Singapore. Raffles Bull. Zool. Suppl. 15:1-179.
5. Wells, D.R. (1999). The birds of the Thai-Malay Peninsular. Vol. I, Non-passerines. Academic Press, London. 648 pp.