The Blue-winged Pitta (Pitta moluccensis) is an extremely shy and beautiful bird that is on the "must see" list of all birders and photographers. It is a rare winter visitor and passage migrant and its appearance in the Singapore Botanic Gardens some time ago send birders and photographers extremely excited. The bird is still around most months and can be viewed if one knows where to go.
In Peninsular Malaysia, it is a summer breeding visitor in the northern states of Kedah, Perlis and Penang. Nelson Khor sends in this report: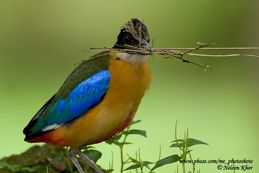 "Each year, around May to August, Blue Winged Pittas congregate in an area of fruit plantations in the northern state of Kedah, Perlis and Penang to build their nests and breed. These shy and elusive birds are ground nesters and are more easily observed only during the nesting period. It is thought that they migrate northwards into Thailand with their young after the breeding season and hardly a single Blue Winged Pitta is seen or heard in Kedah, Perlis and Penang outside the nesting months.
"During the period when they are still choosing a suitable spot to build their nests, they can be observed hopping all over the ground digging up earthworms and catching other insects and invertebrates. At times, they can dig up quite a mouthful of worms, crickets, grasshoppers and even the occasional centipede (top).
"They start gathering dried material and fine roots to build their dome shaped nests. Nest are usually right on the ground amongst low scrub & undergrowth but are also observed in the under storey of fruit trees in epiphytic birds nest ferns (above right). They are hardly located high up in trees but there are the record nesting high up on the tree too.
"Nests are usually dome shaped and sheltered with a front-facing entrance. Usually 3-4 lightly speckled eggs are laid per nest and male and female birds take turns to incubate and tend to the eggs. When one is quietly sitting in the nest, the other is often easily found perched on a nearby low branch keeping guard or bringing back food. Incubation is thought to take 7-10 days after which dark brown rough haired chicks emerge.
"Feeding four hungry chicks is more than a full time job for both parents and they bring back a lot of food at very regular intervals, often perching on a low branch nearby and checking for threats before diving down into the nest to deliver the meals. At its peak, the return rate for feeding never goes longer than 30 minutes and sometimes both parents return with full mouthfuls of earthworms even on a raining day.
"Being ground nesters, the chicks mature fast taking on faint adult colorations within a few days and are encouraged by both parents to fledge much earlier than high nesting birds.
"What was observed was perhaps the first ever event of both parents actively tearing away the canopy of the dome nest, revealing and exposing the 3 grown chicks. This act is assumed to be affirmative action by both parents to force fledging. By now the chicks are capable of short hops and flight to nearby low branches where they remain a few days still dependant on both parents for food. After fledging, the chicks with both parents still hang out in the general vicinity of the nest for at least 2 days and after that it are assumed by their conspicuous absence that they all take off on their migration northwards."
This post is a cooperative effort between www.naturepixels.org and BESG to bring the study of bird behaviour through photography to a wider audience.
Input and images by Nelson Khor